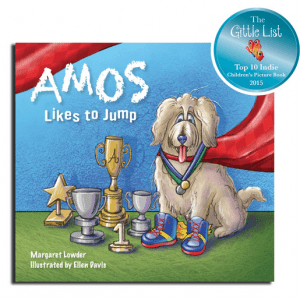 Margaret Lowder earned the #6 spot on The Gittle List for Amos Likes to Jump, a book she wrote that was illustrated by Ellen Davis. (Read my review.)
How did it feel to win a spot on The Gittle List Top 10? I was already proud of Amos Likes to Jump, and believed it to be a well conceived children's book, but the validation of winning an award like The Gittle List 2015 meant so much. To know others thought the verse, illustrations, and quality of our collaborative efforts were worthy of being recognized was so rewarding. This is the first book I have ever authored and the first in the series of Amos Tales.
What's you earliest memory of drawing or writing? I remember writing poems as early as the 2nd grade. My cousin would staple them together to make a very thin booklet! My favorite story I created was about a frog!
What children's book contains your favorite illustrations? The Winnie the Pooh books always had such lovely illustrations that captured my young imagination. The tone is so comforting for children, and the setting is pure magic.
What is your favorite color or color combination? Since Amos Likes to Jump is an action book about my real life dog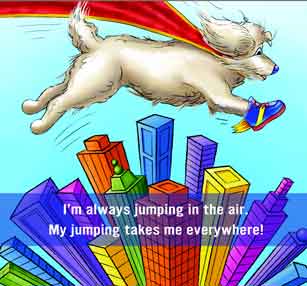 Amos, the illustrator, Ellen Davis, and I decided to use vibrant energetic colors. Ellen's illustrations are beautiful and bring the story to life. Her blue-hued combinations are my favorite.
Why did you decide to self-publish? I believed self publishing would be the easiest and fastest way to get my first book out to the world and, of course, it is the best way to have complete control over what is written and the illustrations. The best part of this was pairing such a gifted illustrator who understood my vision.
Do you prefer to work digitally, by hand, or both? Since I am not incredibly proficient in computer skills, I chose to do both. I write out my thoughts, scratch through, re-write, re-visit, and later enter the final version onto my laptop.
Tell us about your latest project. My latest project is in the illustration phase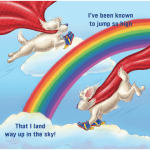 as we speak. We are aiming to be on bookshelves by late Summer 2016. Ellen Davis is once again bringing Amos and his friends to life in the second book of the series: Amos Bounces Back – A Tale of Too Much TV! I am also happy to announce that a soft, plush Amos toy (cape and all) is arriving in April to accompany the books.
What is the best piece of advice you've ever been given? To see the spaces and not the trees! In other words, look for the opportunities in front of you and do not get discouraged by the obstacles. Believe in what you are doing and persevere.
For as long as anyone can recall, Margaret has had a passion for two things: children and dogs. Well, maybe three if you count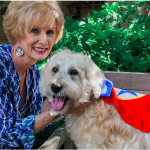 sweets, but that's another story. After years of dreaming Walter Mitty-style of the ideal children's book and its characters, she focused her boundless energy and witty spirit on the Amos Series. Amos is Margaret's trusty sidekick, her pal for years and now her inspiration for children's books. She vividly describes the life of Amos in these books, from his imaginary travels to his secret super powers.
Buy Amos Likes to Jump – board book
Buy Amos Likes to Jump – Coloring & Activity Book (Aviva bought this for her grandchildren; adorable!)
Contact Margaret:
*Please support my indie book business by clicking on the book covers or using the links posted in my blog to buy books and other products. This way, Amazon gives me a little commission that helps me continue the website for you and other readers. Thank you!
Aviva Gittle writes and publishes children's stories in English and Spanish. Her books are filled with beautiful illustrations from artists around the world. You can now order prints and mugs from all of the Kitten and Friends books, Nana books, and more! Each year, Aviva runs The Gittle List contest to support her fellow indie authors. Oh, she also loves children's picture books and is always on the lookout for great ones. The 2016 Gittle List Contest is in full swing: submission guidelines. Follow @AvivaGittle and signup for Gittle News (look right) to be the first to know when they are posted! 😺