Mariana Llanos earned the #7 spot on The Gittle List for No Birthday for Mara, a book she wrote that was illustrated by Julián Galván. (Read my review.)
How did it feel to win a spot on The Gittle List Top 10?  I'm honored to be a three-time Gittle List winner. I didn't see this coming! I'm grateful to be included in this fantastic list. My books Tristan Wolf and The Wanting Monster were in this list in previous years. Additionally, Tristan Wolf was a finalist of the Readers' Favorite Award in 2013, A Planet for Tristan Wolf was an Honorable Mention at the New England Book Festival of 2014. I put a lot of work and passion into my books, so it feels rewarding when they get recognized.
What children's book contains your favorite illustrations? I love Maurice Sendak's art. He was unique and talented. Gosh how I wish I could draw!
Which artists or writers most influenced or inspired your work? When I was young(er), I used to read and re-read two books in particular: one was The Little Prince by Antoine de Saint-Exupery. The other one was Mi Planta de Naranja Lima by the Brazilian Jose Mauro de Vasconcelos. I've always wanted to write poignant stories like those. I think these books are the ones that influenced a lot of my early writing, and are still alive in me.
Why did you decide to self-publish? I self-published because I wanted to be involved in the whole process of creating a book. I find it fascinating. I never considered traditional publishing in the beginning, contrary to what some people think. There's this conception that one self-publishes because there's no other option. Well, that's far from truth, at least in my case. I'm not opposed to traditional publishing, and I would consider it too. For me it's not one of the other. I like to learn from both, and find the right ways to make my books available to my audience. The part I don't enjoy much about self-publishing is marketing. It's time consuming, when I just want to do is to write. But I'm not bad at it, and it's part of the process.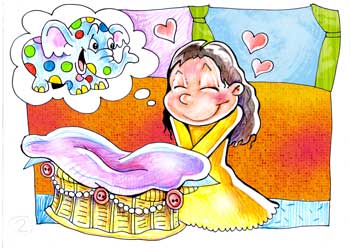 Tell us about your latest project.  This year I'm planning on releasing two titles: The Wanting Monster: Andy goes to Peru, and The Maize Cob Princess, a tale of a tiny princess or ñusta who lives in the times of the Incas. As you can see I'm going back to my roots, with two stories set in my home country. Also, in a few months Recently, I made Tristan Wolf available as an audio book, and The Staircase on Pine Street will soon be available in Spanish.
Tell us 3 strange and wonderful things about you. 
I don't drive on the highway. I take streets and city roads to go where I want to go. Sure it takes me longer, but it also gives me time to muse.
I'm obsessed with the Beatles. I've loved their music since I was young, and now I feel as if I lived in the 60's because all I want to do is Twist and Shout.
Even though Spanish is my native language, I write in English. I started writing when I was a kid, in Spanish of course. When I was in my mid-20s I had a long writer's block, of close to ten years. I only wrote sporadically, but the blank page in front of me, became my usual. I only overcame it when I started writing in the new language, English, when I moved to the US. I haven't stopped writing ever since.
What is the best piece of advice you've ever been given? "Don't be afraid of making mistakes." Very simple. I probably read it somewhere, and it stuck with me. Making mistakes is a sign that you're trying, and learning in the process.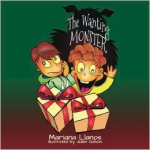 What do you do to market your books? I'm authentic. Yes, that's what I do. That's my strategy. I write, I share, I do ads and things like that, but most of all, I let people fall in love (or hate) with my writing.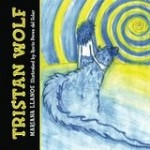 Any advice for writers thinking about self-publishing a children's picture book? This is a tough but rewarding business. If you self-publish, make sure you're publishing your best work. There are a lot of good stories out there, but they don't shine because the authors rushed to publish. Invest money in a good editor, a designer, an illustrator. Read a lot of articles, educate yourself. Also, start networking with other authors and bloggers. Study your favorite authors, buy their books. There's a lot of work to be done before you can call yourself as an 'author'. I promise it will be all worth it in the end. I wrote an article about the traits I consider necessary to thrive in this industry (read here).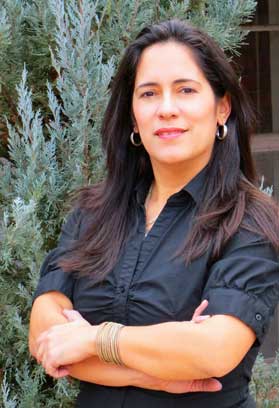 Mariana Llanos is Peruvian-born author who lives in Oklahoma. She has independently published six children's books. She visits schools in Oklahoma City, encouraging children to read and write. She also visits schools through virtual technology.  Last school year she visited 55 schools around the globe. This year so far, she's visited 30. Her goal is to break stereotypes while sharing her passion for books and writing. Her books, Tristan Wolf, A Planet for Tristan Wolf, The Staircase on Pine Street, The Wanting Monster, No Birthday for Mara and A Superpower for Me are available on Amazon.com worldwide and on Full Circle Bookstore of Oklahoma City.
Contact Mariana:
Website
Facebook
Author page
Twitter
Blog
*Please support my indie book business by clicking on the book covers or using the links posted in my blog to buy books and other products. This way, Amazon gives me a little commission that helps me continue the website for you and other readers. Thank you!
Aviva Gittle writes and publishes children's stories in English and Spanish. Each year, Aviva runs The Gittle List contest to support her fellow indie authors. Oh, she also loves children's picture books and is always on the lookout for great ones. The 2016 Gittle List Contest is in full swing: submission guidelines. Follow @AvivaGittle and signup for Gittle News (look right) to be the first to know when they are posted! 😺