Du-Pars Copycat Pancake Recipe courtesy of Gittle Publishing. Check out our children's picture books!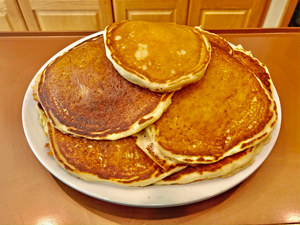 David has been experimenting with this recipe for years. This is the latest version. At the bottom are instructions for turning this recipe into a waffle recipe.
Ingredients for pancakes
Dry Ingredients
272 grams all purpose flour
1 TB baking powder
1/2 TB baking soda
1 tsp salt
Wet Ingredients
(NOTE: Bring to room temperature the eggs, oil, and buttermilk)
3 large eggs, separated
1/4 cup canola oil
1/4 cup butter, melted and cooled a bit
2-1/2 cups buttermilk
1 tsp vanilla
3 TB sugar or equivalent sugar substitute
Instructions for mixing pancake batter
It's important to follow the mixing instructions — and to have the eggs, buttermilk, and oil at room temperature.
1. In a large bowl, SIFT all dry ingredients.  Mix thoroughly. Leave a well in center.
2. Combine room temperature egg yolks, buttermilk, and oil, in a separate bowl. Mix thoroughly.
3. Dump wet ingredient mixture into the well of the dry ingredients.
4. Now comes the tricky part. You need to mix the wet and dry ingredients!  But you also need to minimize the formation of gluten in the batter!  No whisk here, fold with a rubber spatula to combine.  Work slowly, getting sides and bottom, and stop when just combined. Some small lumps are OK.
5. If batter is too thick, add more buttermilk a tablespoon full at a time.
6. Whip the egg whites to soft peaks. Mix 1/3 of egg whites into batter.
7. Now, fold the remaining egg whites into the batter.  Slow and easy is the order of the day.  When done you may still see some streaks of egg whites in the batter.  That's perfect!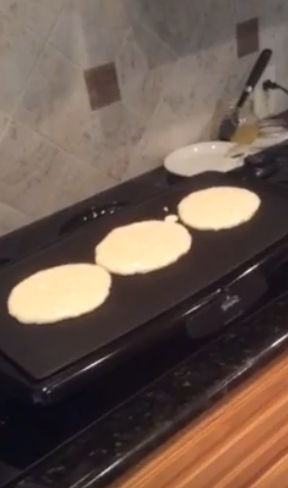 8. A non-stick griddle is best for pancakes! Temp is set to 350-375 degrees.  You may need to play with this a bit for your setup. For a non-stick surface, wipe oil or butter on with a paper towel.  Then remove with another paper towel. This helps the first pancakes to come out nicely.
9. Flip pancakes over when bubbles form on top and edges appear dull or dry. Taking a peek before flipping is okay. Second side should cook another 2 to 3 mins. Enjoy!!!
WAFFLES: Add one more large egg (separated) and use above directions to mix batter. Then follow instructions of your waffle maker. If you use the Cuisinart double waffle maker, setting it at "4" is recommended.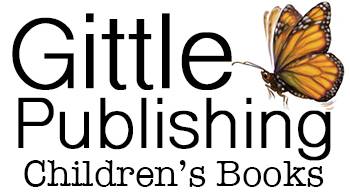 Gittle Publishing offers great stories for children in English and Spanish, including the Kitten and Friends / Gatito y amigos series.