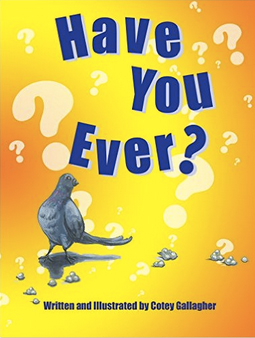 Cotey Gallagher earned the #5 spot on The Gittle List for Have You Ever?, a book she wrote and illustrated. (Read my review.)
How did it feel to win a spot on The Gittle List Top 10?  Winning a Top 10 spot on The Gittle List was extremely exciting for me! As a small indie illustrator/author, it is really gratifying to see people enjoying my work. Friends and family always give support, but having another professional acknowledge my hard work gives it some validity. In college (ages ago), I had received a few scholarships for my illustration, but this is the first real award of my professional career.
What's your earliest memory of drawing? To be honest, I can't remember a time when I wasn't drawing or painting. When I was six I wanted to draw interior design, when I was nine I wanted to be a fashion designer, and when I was eleven I wanted to illustrate album covers. The latter career goal swayed my interest into the wide world of illustration vs. fine art. Why paint something to hang on one wall when I could paint something to be put into print and have a potentially huge audience? My writing was always that of a novice; the only real writing I did as a child was in a diary.  I couldn't necessarily get much feedback from that, but I always got a great amount of respect for my art from my family and peers.
What children's book contains your favorite illustrations? By far, The Book that Jack Wrote by Jon Scieszka has some of my favorite illustrations. I am a huge Daniel Adel fan. I have followed his caricature illustration in magazines for years, and found his ability to cross genres and illustrate children's books as well inspiring.
Why did you decide to self-publish?  My choice to self-publish came relatively easy to me. Prior to "Have You Ever?", I illustrated a series of 4 books for a local author depicting the 4 seasons of Vermont. She chose to self-publish, and I found it a learning experience of what to do vs. what not to do when publishing. After finishing my book dummy, I did an extensive amount of research on which book publishers would actually accept un-agented submissions. They were few and far between, but I put my work out there to a handful of traditional publishers and waited… No response. I didn't let it get me down; in fact it fueled me to learn more about self-publishing. I felt I had something really unique to share and was not willing to give up quite yet. I am glad I self-published, because I feel that I was able to have complete control over what I envisioned the book to be.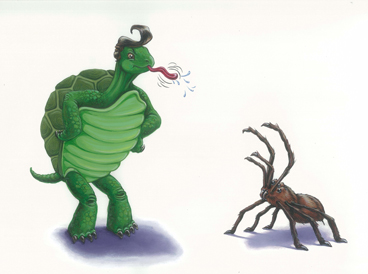 Do you prefer to work digitally, by hand, or both?  I am fully a "by hand" personality. From drawing, to painting, to my crafts, it doesn't feel real unless I am holding it up on a piece of paper. There is something so much more genuine when you can see small flaws in a hand painted piece. I am not perfect, neither is my art. I do work digitally from a design perspective though. I find it easier to arrange a page's text and sometimes the composition in a less "permanent" medium.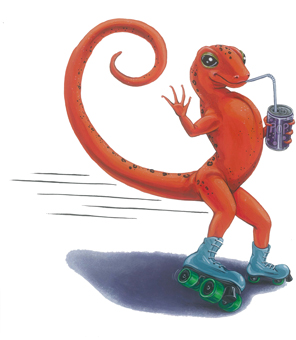 Tell us about your latest project. I just finished my second self-published book titled The Literally Illustrated Collection of Idioms, Metaphors and Euphemisms. It is an assortment of common figures of speech we use in every day vernacular, but with the silly twist of taking the subjects literally! The illustrations are all highly imaginative, and all of the figures of speech have helpful definitions for the reader.
What do you do to market your books? Locally, I am very grassroots; I try to get my face out there by doing book signings, TV and newspaper interviews, and readings at local libraries. On a broader scale, I have done research into getting interviews with bloggers, and putting my book out to as many contests as I can. I use social networking sites like Facebook and LinkedIn to create buzz and interest. Cross-marketing is something I have just begun doing, and am excited to see the results!
What is the best piece of advice you've ever been given? "Make the mistake." The worse thing that will happen is that you will learn from that mistake. If you don't take the risk, how can you ever really be sure about the result? I have a tendency to play it safe, but any time I choose to challenge myself, I have found I have the reward of knowledge, no matter the outcome.
Artist Cotey Gallagher was born and raised in picturesque Vermont. She attended college at the Art Institute of Boston (now Lesley University College of Art and Design) in Boston, MA, receiving a BFA in illustration. Her main focus is editorial and caricature, but has always had a passion for children's books. She is a self-proclaimed "Word Nerd" and has always enjoyed crossword puzzles and word games. Cotey resides in Salisbury Vermont with her husband, son and cat. 
*Please support my indie book business by clicking on the book covers or using the links posted in my blog to buy books and other products. This way, Amazon gives me a little commission that helps me continue the website for you and other readers. Thank you!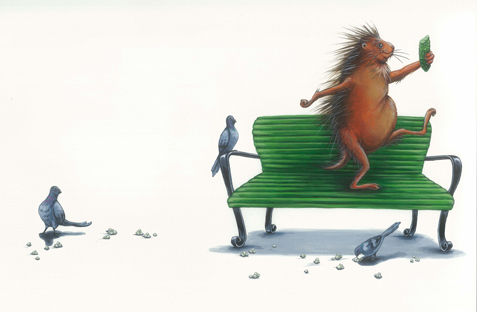 Buy Have You Ever? by Cotey Gallagher
Contact Cotey:
Portfolio website
Book website
Facebook
Pinterest
Etsy
LinkedIn