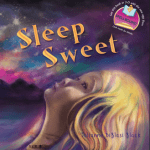 Julianne DiBlasi Black earned the #8 spot on The Gittle List for Sleep Sweet, a book she wrote and illustrated. (Read my review.)
How did it feel to win a spot on The Gittle List Top 10? I was thrilled to be included in The Gittle List, I've won several other awards for my artwork and writing, but this was my first as a combined piece showcasing my art and text together. It has also been great learning about the other authors/illustrators that made the list and connecting with them through social media.
What is your favorite children's book? My favorites growing up are still very much my favorites now- anything by Dr Seuss, Harold and the Purple Crayon by Crockett Johnson and A Light in the Attic by Shel Silverstein. Passing them down to my daughter and getting to enjoy them through her eyes makes them all new again.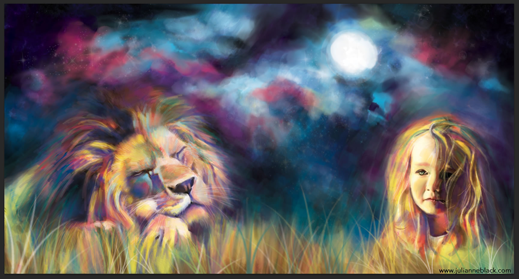 Which artists or writers most influenced or inspired your work? I'm influenced greatly by the dreamy worlds of creative giants like Mike Mignola, Tim Burton and Jim & Brian Henson. The hyper-realistic details of the incredibly imaginative leave me in absolute awe.
What is your favorite color or color combination? It changes. Right now I'm really into Southwestern color combinations; crimson, rust, turquoise and bright copper.
Tell us about your latest project. I'm juggling several new projects right now that are already making my 2016 quite full! Sleep Sweet is coming out as an Augmented Reality virtual pop-up book, I have two new children's books coming out this spring that I am finishing up the illustrations for, I'm continuing the editing on the two adult novels I wrote during 2015, and I have a solo exhibit at the Maturango Museum featuring my fine art work scheduled for November!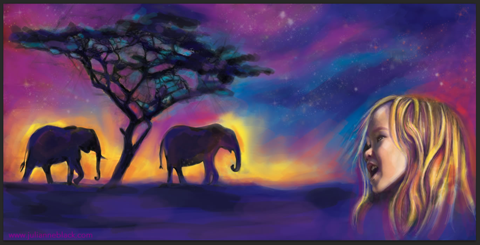 Tell us 3 strange and wonderful things about you.
Hmm. I once spent the night in a sleeping bag on the Kalahari Desert.
I've done most of my own tattoos.
I would be perfectly happy eating only sushi and drinking green tea for the rest of my life.
What is the best piece of advice you've ever been given? Attributed to Walt Disney is the phrase "Keep moving forward". So many times I've hit dead ends on projects and had to remind myself to just keep moving forward. No matter how slow you go, you'll soon gain momentum and be back on your feet. Works every time.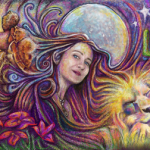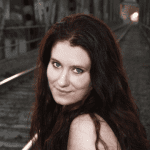 Julianne DiBlasi Black is an artist, poet and author influenced greatly by the dreamy worlds of creative giants like Mike Mignola, Tim Burton and Jim & Brian Henson. Blending life experiences and day-dreams through text and image, she draws in children of all ages with her whimsical story lines and mixed-media illustrations. Between writing and creating art, raising her three year old daughter Madison, and writing her popular mommy-blog, she also works as a freelance graphic designer. You may have already seen her work on international commercial packaging, national ad campaigns (Sears, Mitsubishi +) or political branding. Raised in Andover, MA she considers the world her playground and continues to re-locate and travel extensively, adding to her collection of environmental and social experiences. She currently lives out in the Mojave Desert.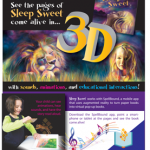 Buy Sleep Sweet
Contact Julianne
Website
Amazon Author Page
Online Portfolio
Facebook
Twitter
*Please support my indie book business by clicking on the book covers or using the links posted in my blog to buy books and other products. This way, Amazon gives me a little commission that helps me continue the website for you and other readers. Thank you!
Aviva Gittle writes and publishes children's stories in English and Spanish. Each year, Aviva runs The Gittle List contest to support her fellow indie authors. Oh, she also loves children's picture books and is always on the lookout for great ones. The 2016 Gittle List Contest is in full swing: submission guidelines. Follow @AvivaGittle and signup for Gittle News (look right) to be the first to know when they are posted! 😺