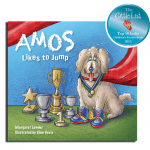 How did it feel to win a spot on The Gittle List Top 10? While I have won awards for my work as a medical illustrator, Amos Likes to Jump was my first published picture book. It was immensely gratifying to be recognized for the hard work that collectively went into this book. As a first-time author and illustrator team, we are thrilled to have placed on the Gittle List. I can't wait to see what the future holds for our second book in the Amos series.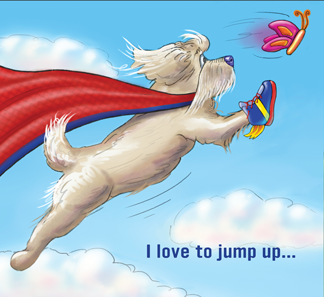 What children's book contains your favorite illustrations?  I love the whimsy of Shel Silverstein's work. The starkness of his illustrations in The Giving Tree lend themselves so beautifully to the emotions in the text.
What is your favorite children's book? My favorite children's book of all time is The Lorax. I love the illustrations of the candy-like other world filled with truffala trees and the way Dr. Suess plays with light and darkness to evoke the changing mood in the book. I read it so often to my cousin's child a few summers ago that I almost know every word by heart, and yet I never tired of it. To me, that is the mark of a lasting book.
Which artists or writers most influenced or inspired your work? Currently, one of my favorite children's book illustrators is Will Terry. The use of light and color in his work really inspires me. He uses light very purposefully in order to set the mood of his illustrations, and his attention to detail is truly respectable.
What is your favorite color or color combination? I like using varying shades of blue and turquoise in my work. It's a very calming color and I use it in most all of my work, children's book and otherwise.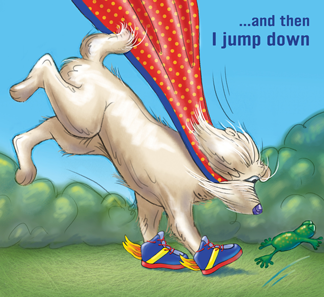 Why did you decide to self-publish?  Because the Amos books are about a real dog, [the author] Margaret Lowder really wanted to ensure that our books are true to the spirit of Amos himself.  I did not anticipate the sometimes condescending attitude towards self-published books, but have been glad to see some recognition that authors are now choosing this route willingly over traditional methods.
Do you prefer to work digitally, by hand, or both?  I prefer to combine traditional and digital methods in my work. I create my sketches in 2B pencil and apply color digitally. There is something about hand-wrought work that I think will always be appealing to readers.
Tell us about your latest project.  I am currently working on final illustrations for the second book in the series of Amos Tales, entitled Amos Bounces Back: A Tale of Too Much TV. This book is due for release in the Summer of 2016. In order to reach an older audience, this book will be a large picture book (not a board book like Amos Likes to Jump).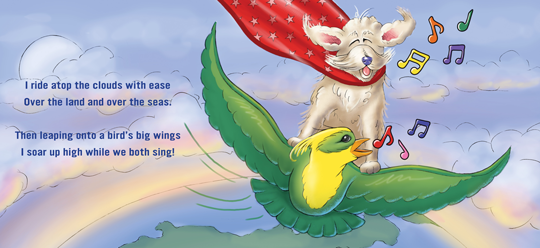 What is the best piece of advice you've ever been given? I had a professor in graduate school for Medical Illustration who passed away as I was working on this children's book. Professor Mascaro taught that you should draw, draw, draw, and draw some more. He [also] told me that besides drawing, the best thing I could do was to really understand color.
What do you do to market your books? Aside from setting up readings and signings in shops, libraries, and schools, we have an active social media presence on facebook and instagram. We have a blog on amosthedog.com where we share dog treat recipes on #TreatYourselfTuesdays, and we promote the book through blogs and magazines.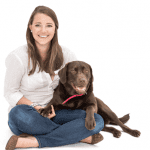 Ellen is a science lover turned artist who found her niche as a medical illustrator. With a BFA in Scientific Illustration and a master's degree in Medical Illustration, Ellen is well versed in color and design. Whether painting Amos or anatomy, she brings dynamic color and energy to her work. Ellen's specialties include children's book illustration, medical illustration and animation, veterinary illustration, and pet portraiture. When not creating art, she can be found cooking and spending time with her chocolate lab, Nala.
Buy Amos Likes to Jump*       Board Book     Activity Book
Contact Ellen
Website
Facebook
Instagram
Pinterest
Portfolio
Medical Illustrations
*Please support my indie book business by clicking on the book covers or using the links posted in my blog to buy books and other products. This way, Amazon gives me a little commission that helps me continue the website for you and other readers. Thank you!
Aviva Gittle writes and publishes children's stories in English and Spanish. Each year, Aviva runs The Gittle List contest to support her fellow indie authors. Oh, she also loves children's picture books and is always on the lookout for great ones. The 2016 Gittle List Contest is in full swing: submission guidelines. Follow @AvivaGittle and signup for Gittle News (look right) to be the first to know when they are posted! 😺