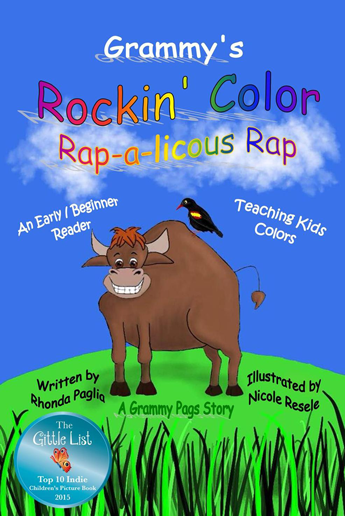 Rhonda Paglia earned the #9 spot on The Gittle List for Grammy's Rockin Color Rap-a-licious Rap    (Illustrated by Nicole Resele).  (Read my review.)
How did it feel to win a spot on The Gittle List Top 10? Oh my goodness, I've been so excited, honored, and grateful for winning a spot on The Gittle List.  I kept thinking, "We GottaGittle, We Gotta Gittle – then I would laugh out loud! Nicole Resele, my lovely former student, illustrated Grammy's Rockin Color Rap-a-licious Rap.
What's you earliest memory of writing?  7th grade English assignment: write a fictional story that met a certain word count and learning components. My story was a total flop.  I cried.  My mother, an English teacher, completely red lined it, then rewrote it for me.  Mom got an A – I got zero in writing confidence.  [Fortunately], I married a newspaper writer and editor, my husband, Tony.  He's the one who finally helped me gain some confidence in my writing.
What is your favorite children's book?  For the little, little ones, I love all of Sandra Boynton's books.  I also love The Day the Crayons Quit by Drew Daywalt and Oliver Jeffers.
Which writers most influenced or inspired your work?  Author Bruce Coville has been a great inspiration.  I loved his characters, sense of humor, and page turning stories.  When Bruce's book, My Teacher is an Alien, was first released, I read it to the kids.  They went absolutely crazy. With permission from Bruce, I rewrote My Teacher is an Alien as a play that my class performed for the school and parents.  Everyone loved it.  Our PTO ended up inviting Bruce for an author visit.  It was great and he stayed with our family while he was in town!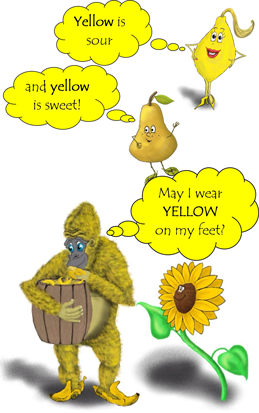 Why did you decide to self-publish? I love the freedom of self-publishing.  I love every aspect of it.  I am the author, illustrator (for most of my books), layout designer, and publisher.  These are MY books from cover to cover.  I do hire a copy editor, but the only manufactured part of my books is the process of printing. I love the fact, that as a self-published author, if I decide to make a change in my book, I can do it.  I own all rights to my books and its okay to make changes and make improvements if I find the need. I love the interior design aspect, it's the illustrating that is the most challenging for me.  I really just draw sticks.
Do you prefer to work digitally or by hand? I prefer to work digitally.  I don't consider myself a "real" artist, but the illustrations I do create is in  my "grammy" art style.  I create it line by line, mouse click by mouse click, layer by layer.  An example is the Meeda and Me series, the illustrations are only 2-dimentional, but it's the best I can do using a mouse.  It takes millions of clicks for me to create a book. I think my illustrations are colorful and kid-friendly.  They are not professional by any means, but I think kids can relate to their simplicity.
Tell us about your latest project. I'm working on a sequel to Three Little Gnomes and a Boy Named Orion.  Ratna Kusuma Halim will illustrate it. [I'm introducing] a new, scruffy character, Nibbles McGibbles, who enters the gnomes' garden space, but that's all I'll share for now.  I also have a couple more "Woozler" books in the background and one more Doonsey's Beach Adventure book I'd like to complete.  Busy, busy, busy!
Tell us 3 strange and wonderful things about you.
When I was about 7 or 8 years old, I sang and danced with two boys and another girl.  Our little troop was called the Tiny Mites.  We auditioned for the original Mickey Mouse Club TV show.  We didn't make it on the show, but it's one of my "claims-to-fame"– ha ha!
Twelve years before my first grandchild was born in 2008, he came to me in a very vivid dream.  I didn't know it was my grandson at the time, but the dream touched my heart so deeply, that it wouldn't leave me alone.  I wrote and illustrated the dream / story, and titled it, The Ball-Capped Boy. Twelve years later, I understood.
I still sing and dance.  I am a member of the "Toast of the Town Tappers" adult tap group.  We perform two tap routines at our Mercer County Senior Follies each year.  It's great fun and wonderful exercise.
What is the best piece of advice you've ever been given? Just be yourself – no one can do it better!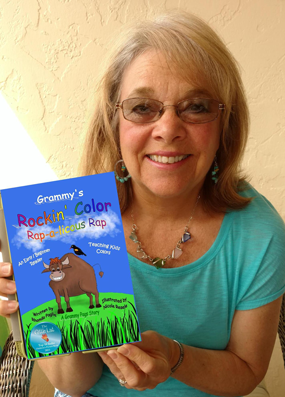 Rhonda Paglia is a self-published author of 10 children's books, 8 of which she has also illustrated.  In a former life, Ms. Paglia was an elementary teacher.  She lives in Pennsylvania with her husband.  They have three grown children, five grandchildren, and a little pup named Bella. "Grammy Pags," as she is called, loves tap dancing, yoga, and writing stories for kids! She is thrilled to be a Moms Choice Award recipient for her Meeda and Me picture book series; an Inkspokes Select Book Award recipient for Three Little Gnomes and a Boy Named Orion, and a 2015 Gittle List Top 10 recipient for Grammy's Rockin Color Rap-a-licious Rap.

BUY Grammy's Rockin Color Rap-a-licious Rap*
Contact Rhonda
Website
Facebook
Blog
Twitter
Amazon Author Page
LinkedIn
*Please support my indie book business by clicking on the book covers or using the links posted in my blog to buy books and other products. This way, Amazon gives me a little commission that helps me continue the website for you and other readers. Thank you!
Aviva Gittle writes and publishes children's stories in English and Spanish. Each year, Aviva runs The Gittle List contest to support her fellow indie authors. Oh, she also loves children's picture books and is always on the lookout for great ones. The 2016 Gittle List Contest is in full swing: submission guidelines. Follow @AvivaGittle and signup for Gittle News (look right) to be the first to know when they are posted! 😺