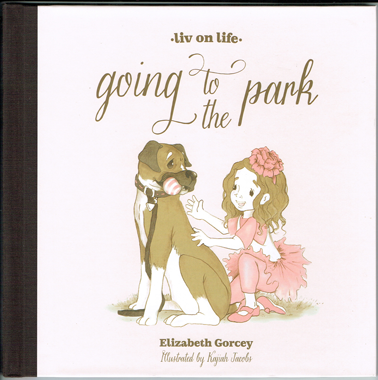 Elizabeth Gorcey earned the #10 spot on The Gittle List for Going to the Park (illustrated by Kajiah Jacobs).  (Read my review.)
How did it feel to win a spot on The Gittle List Top 10? Had you ever gotten an award for any of your other work? It was great to be recognized by Aviva Gittle Publishing. We [also] just won the Newbie Author award from Royal Dragonfly.
What's you earliest memory of drawing or writing? I used to draw and write poetry on the floor in my bedroom starting at age 4. I also used to make shoebox art utilizing all recycled materials.
What children's book contains your favorite illustrations? I love the illustrations in the Olivia series by Ian Falconer.
What is your favorite children's book? The Olivia series by Ian Falconer, I also love Dr. Seuss as well as Mo Williams children's books. My daughter Olivia's favorite books are Books:  Agatha Christie mysteries and the Harry Potter series by J.K. Rowling.
What inspires your work? I am most inspired by my daughter, Liv.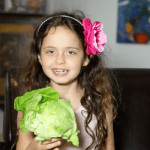 What is your favorite color or color combination? My favorite colors are black and white.
Why did you decide to self-publish? Was it harder or easier than you thought to publish your own book? Self-publishing is hard, especially if you have high standards. I want my Liv On Life Book Series to have a very specific look and feel.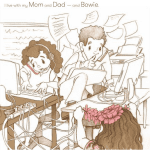 Do you prefer to work digitally, by hand, or both?  I prefer to work by hand then get it digitally. I love the feel of paper!
Where did you get the idea for Going to the Park?  Liv On Life (LOL) is a series of children's books, inspired by my daughter, Liv. When my daughter was barely 3 years old I began to record the wisdom and advice that she would spontaneously deliver to anyone who was listening. I dubbed these "Liv-isms" and each book in the LOL Series I based directly on these utterances. For me, the message is crystal clear: In a high tech, past-paced world, kids are still the best teachers.
Tell us 3 strange and wonderful things about you.
I love broccoli it's my favorite food.
I love my dog and he goes everywhere with me.
I love yoga and do it wherever I am.
What is the best piece of advice you've ever been given? Do something that you are passionate about in life.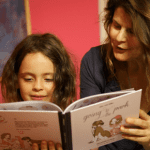 Director, producer and actor Elizabeth Gorcey has expanded her repertoire to book publishing with the Live on Life ("LOL") children's book series. The six-book series is written from the endearing perspective of Elizabeth's daughter, Olivia, who shares her insights and observations on modern-day life. The message is clear: In a high tech and fast-paced world, kids are still the best teachers to remind adults of the simple joys in life. After a successful career acting in such films as Footloose, Teen Wolf, and TV series such as Highway to Heaven, Beauty & The Beast, and Max Headroom, Elizabeth dove into work behind the camera. She is currently working on a documentary she directed and produced call How Old is Old? with Tony Curtis, Doris Roberts, Judge Judy and Tony Bennett. Elizabeth currently lives in LA with her family. When not making films or publishing books, she works diligently on her non-profit art program for terminally ill children called the Caring Stroke Arts Program.
Visit Elizabeth's website:
*Please support my indie book business by clicking on the book covers or using the links posted in my blog to buy books and other products. This way, Amazon gives me a little commission that helps me continue the website for you and other readers. Thank you!
Aviva Gittle writes and publishes children's stories in English and Spanish. Each year, Aviva runs The Gittle List contest to support her fellow indie authors. Oh, she also loves children's picture books and is always on the lookout for great ones. The 2016 Gittle List Contest is in full swing: submission guidelines. Follow @AvivaGittle and signup for Gittle News (look right) to be the first to know when they are posted! 😺