Claudio Marquez is the owner of CFM Studios in Brooklyn, NY (USA). He brought together the voices, sound effects and his original music for Aviva Gittle eBooks'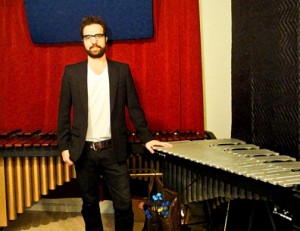 promotional video, Go To Gittle! He did an amazing job in both English and Spanish. You can watch both versions here. Oh, yeah: Aviva got Claudio's secret recipe for yummy dairy-free ice cream. Read on!
 Where do you live? Do you like it there?
I live in Williamsburg, Brooklyn NY.  It is a great place where many artists and musicians reside and can easily collaborate.  It also has great vegan donuts.
 How long have you been a musician?
I started playing piano when I was 9, and when I turned 13 I got a drum set for Christmas.  I never really made a decision to be a musician.  It was always a part of my life.
 Were ever in a band? Tell us about it.
I've been in many bands, and my first serious band was as a drummer when I was 16.  We were a punk rock quartet named The Linear Complex and I still love to watch old videos of our shows; I played with such intensity!
 How many instruments do you play? Which is your favorite?
I play professionally the vibraphone and the double bass.  I grew up playing piano and drums, and one summer in my 20s I learned a bit of guitar. I practice orchestral bass every day quite religiously and rehearse with 2 orchestras every week.  It is a more recent passion (last 4 years) and has opened me up to the marvelous world of opera.
 Is writing music for videos more challenging than writing a song to perform or record on an album? Why or why not?
Sometimes it is more challenging, because your personal tastes might be different than that of the client.  So you have to put that aside and work from a strictly professional perspective, which was difficult in the beginning since I'm so passionate about the music I love.
What got you into providing voice-over services? Are you a voice actor?
As a musician I have collected a lot of recording gear throughout the years and gained experience recording and editing sound.  In 2012 I met someone in the translation industry and told me how I had all the tools to record voice-overs, and we partnered up to form CFM Studio.  She has all the experience in project management, and I have the experience in recording and editing.
That engineering panel is pretty intimidating! What do all those buttons do?
I remember the first time I saw a mixing board; they are eye candy for some of us! A lot of those knobs can change the frequency of a signal, for example add or subtract low bass frequencies in a voice signal.  Getting to know all those knobs and buttons is really key to getting a great broadcast-quality voice-over.
How much of the finished product is manipulated digitally? What kinds of things are changed and why?
After recording the voice-over, I like to use a good amount of compression and equalization to make the voice sound bigger and with more depth.  Sometimes a voice artist will accidentally lisp on a word, and I can usually correct the lisp with my computer software.  Technology today is very advanced!
How difficult is it to translate a script from one language to another? I know we had some issues with syncing the animation for the English and Spanish versions of my "Going To Gittle" promo video.
Translating a script is simple and just takes a professional translator "x" amount of time to do it depending on how long it is.  But because the word count changes from English to Spanish, the animation must be altered for the new pacing.  Consequently, the music needs to be tweaked along with sound FX and can take more time in the editing process.
Who is your favorite musician? Why?
Currently I love Verdi, because he composed Rigoletto which is my favorite opera.  I have 3 DVDs of it which never leave the DVD player and are almost constantly playing in my studio.  (Check out the music in the second scene, when Rigoletto encounters the assassin, Sparafucile.  Best thing ever.)
 Tell us 3 strange and wonderful things about you.
I am currently working on becoming a certified pilot to fly single-engine aircraft, just for fun 🙂
I am lactose intolerant.  So I make the best homemade peanut-butter and chocolate chip, lactose free ice cream!
I never learned how to whistle.
What's the best piece of advice you've ever been given?
Always keep your hands moving.  Even if you are not inspired, keep working towards a goal out of discipline.  Your ability to focus is essential and you should never stop strengthening this skill.
Claudio Marquez is originally from Venezuela and grew up in the States.  He owns CFM Studios in Brooklyn, NY. His dogs, Mercutio and Cyrano, taught him the beauty of hidden frequencies, and since then he has dedicated himself to finding his own.  After a marathon 22-year academic career including Berklee College of Music and NYU, Claudio opened up his own recording studio in Brooklyn and is now available for back-scratches.  At least that's what his dogs say.