Mark Megson is the creative inspiration behind several Aviva Gittle eBooks. I stumbled across Mark's site, www.ReadingJuice.com and read several of his short stories. I realized this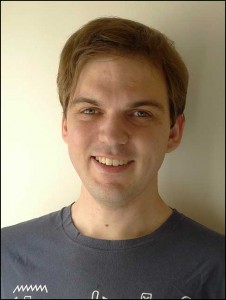 was a treasure trove of story ideas for children's books. Mark responded to my "out-of-the-blue" request to form a writing partnership. The Boy Who Bounced to the Moon, Snack Attack! and Mary's Magic Word are the result. Now I'll let Mark tell his own story.
Do you remember the first story you ever wrote? What was it about?
I can't remember the very first story I ever wrote, but an early one that sticks out [in my mind] was about a magic button which took me to a world where animals wore clothes and they made me king. Eventually I used the magic button to get back home but then it disappeared and I couldn't get back. I must have been about six and I think it may have been influenced by the bit in Bedknobs and Broomsticks, my favourite movie at the time, where they used the magic bedknob to get to the Isle of Naboombu.
 What is your favorite children's book? Why?
Tough question, there's so many that I'd like to pick. I think I'd have to go with Alice's Adventures in Wonderland and Alice through the Looking Glass but The Hobbit and The Wind in the Willows would be close runners up. I love the Alice stories because they're crafted from pure imagination and no matter how many times you read them you always find something new.
Which of your children's books did you enjoy writing the most?
All the books I've worked on with Aviva have been great fun but I think The Boy Who Bounced to the Moon was the most fun. It came together very naturally and it was a great learning experience to see how my original idea became more and more refined as we worked on it.
Tell us about your latest writing project.
At the moment Aviva and I are working on a book about a boy called Quentin and a quilt cover which can transport him to different dimensions. It's going to be a story which mixes a bit of science with a fantastic journey of self-discovery through weird and wonderful worlds, a story we hope will be super exciting and educational too.
Do you think the printed book is dead? Why or why not?
I think the printed book is very much alive and well. eBooks are definitely the way forward, I don't know what I'd do without my Kindle, but there will always be a place for the printed kind. At least on my bookshelf. If vinyl records can still be going decades after they were made obsolete, I think books have nothing to worry about. There's nothing quite like walking around a bookshop, especially pokey old ones with that wonderful old book smell. Searching for something in the Kindle store just doesn't have the same magic.
What's your favorite place to write?
Anywhere inspiration strikes. I used to mainly write at my desk but thanks to tablets and smartphones it's become easier to capture ideas and write when I'm out and about. I find trains and train station waiting rooms can be great places to write, and I always keep a pen and a piece of paper on me in case my battery dies!
 If you could have any artist, past or present, illustrate one of your children's books, who would you select? Why?
Oh wow, any artist. I'd like to see what Leonardo da Vinci would do with the Boy Who Bounced to the Moon, seeing as he designed a few crazy flying machines of his own, but I think I'd have to go with my favourite artist Hergé. He created my favorite comic book series, The Adventures of Tintin, and had a deceptively simple style that allowed him to create incredibly striking images which told a story at the same time in one frame.
 On your www.readingjuice.co.uk site, you post all kinds of original stories and poems. But, you also have created your own animation videos and written the songs / performed the music. Do you dance, too?
No I definitely don't dance. I always say I'm left handed so that must mean I have two right feet. I don't have any plans to learn either. I'm quite happy just strumming my guitar, I'll leave the dancing to people who can move their legs faster than a walking pace without tripping over their own feet.
 Tell us 3 strange and wonderful things about you.
Hmm, strange and wonderful.
Ok, I work at a museum which is great fun. I mainly help to promote it but I've also created illustrations for a board game which people can play there, helped organize a really cool family activity where we green screen people into different locations around the world and have dressed up in Tudor costume at a local county show.
My favorite thing to drink is a strawberry milkshake.
Final wonderful thing – I'm a bit of a geek. I love science (even though I didn't do very well in it at school), I've been known to get obsessed with TV shows and movies and my favorite video games are puzzle-based ones. At the moment I'm playing Professor Layton and the Miracle Mask on the 3DS.
 This is a loaded question: Are American readers different from British readers? Why or why not?
Hahhah, ok, I've got to tread carefully here. I wouldn't say they're that different. I'd say that any kind of American fiction, whether that's a children's book or a sitcom, tends to be more fantastic/wacky or emotionally open than its British equivalent. So maybe American readers are more open to crazier or more emotional stories, I don't know. It seemed us Brits used to do imaginative better than anyone, with things like Alice's Adventures in Wonderland (free Kindle version here) and Monty Python's Flying Circus, but the imagination ball definitely seems to be in your court these days.
 What is the best piece of advice you've ever been given?
My Gran always used to tell me "hope for the best, expect the worst and take what comes", I always think of that if I'm worried about anything and what I'm worried about never to seems to turn out so bad.
Mark Megson lives in Devon, in the UK, and spends a lot of time going for long walks and exploring the countryside. These walks help feed his imagination as do good books about magical places like Wonderland, Narnia and Middle Earth. He volunteers at a museum which he enjoys very much.  Although he is a bit disappointed that the exhibits don't come alive at night (at least not when he's looking).  Mark has written three children's books with Aviva Gittle, but has written over 100 stories, poems, and limricks on his website www.ReadingJuice.co.uk. He has also created animated shorts featuring his art and music.