Carolina Ravassa was the voice actor who worked with Claudio Marquez of CFM Studios on the Go To Gittle! video. Not only did she do voices for the English version, Carolina did all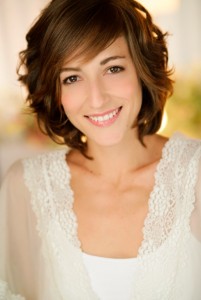 seven voices for the Spanish version.You can watch both versions of the video here. Carolina talks about many of the characters she has played, including several for a fussy little girl who didn't want to take a bath. And, a special treat: A very adorable bilingual site the little ones will want to watch! Carolina plays 7-year-old Cesar. Read on for the link!

Where do you live? Do you like it there?
I live in Williamsburg Brooklyn. I love it here.
How did you become a voice actor?
I loved acting since the age of 4 and I was always making up voices or accents as a kid. Once I started studying theatre, I realized voice-overs went hand in hand with acting- so I started auditioning for them. I do commercial VOs, but my favorite are cartoon/character voices.
Did you go to school for acting?
I went to Boston College for theatre arts and then studied film at the NY Conservatory for Dramatic Arts for one year.
What's the difference between having a great voice and being a great voice actor?
I think you can have a great sounding voice and not know how to use it well, so that would give a boring read. I think voice actors need to bring some life to the character in order for it to be believable, if not, everyone would be doing them. After all, it is acting; not just recording a read.
How are acting for stage/screen different from voice acting?
For one thing, you don't need to worry about hair and make-up which is always nice. Voice acting can give you more range because you don't have to look like the character you're playing. I've done voices for 6-year old little boys, strange-furry creatures and angry sponges. I'd never get to play those on TV because I am not any of those things, but we get to delve into fun characters that don't necessarily have to be our type or gender.
How difficult is it to perform the same script in different languages? Do you find yourself thinking, "This is not translating well from English to Spanish?"
It's not difficult for me with English and Spanish because they are both native to me. Some things don't translate well at times or they are a "literal translation" which sounds weird, so we make a quick change. If the translation is good- all works well. Some jokes get lost in translation, but we find a way to make the work. Sometimes the character's attitude comes out differently in one of the languages, which is funny, so I am aware of that and keep them constant. It may be a cultural difference; Spanish can be a little more passionate and English a bit more measured.
Did your family encourage you to go into acting? Any other actors in your family?
My family definitely encouraged me into acting since they knew I loved it. My father loved acting as a child but did not pursue the arts because his father wanted him to study Law. I think that's why they've both encouraged me and my two sisters to study what made us happy because he couldn't. My mother works in education, so I think she understood early on that we would succeed in what we are passionate about.
You did all 7 voices for my "Going to Gittle" promo video. If I didn't know, I would not have guessed that 1 person was capable of that (short of Mel Blanc). How do you do that?
I don't really know how I do it. I just start playing around at home with different voices. Yes I sound crazy- but it's the only way you know if these characters live inside you. You think, "What would my unhappy, ragged slippers say to me? And how would my dirty coffee mug complain?" I was babysitting a down-syndrome girl for the first time, and she wasn't cooperating at bath time. So the little tug boat started talking to her, and then the rubber ducky came out with a different voice… and all of a sudden I had a village of little characters bathing her and she was so happy. Things happen serendipitously.
Who is your favorite actor? Why?
Since I was young I loved Robin Williams, perhaps because of all the voices he did. He was always so creative and energetic. I would sing his songs as Batty in Fern Gully and the Genie in Aladdin. He was my hero for that. He's also a great dramatic actor, so I love that he's versatile. I also love Cate Blanchett, Naomi Watts and Glenn Close- perhaps because they are so versatile.
Were you surprised the first time you hear your recorded voice? Why or why not?
Totally! I was cringing! I think hearing ourselves for the first time is a shock because we think, "that's not what I sound like!" But sure enough it is. It's like watching yourself on screen; it's painful. But we start getting used to it, I think so we can make adjustments and do a better job on the next take. I also realized my voice is lower than I thought. I auditioned for a little girl on a cartoon- and I booked the raspy little boy instead. That was something that helped me adjust accordingly depending on if I'm auditioning for a high-pitched teenager versus a soothing mom.
Tell us 3 strange and wonderful things about you.
I grew up with 5 golden retrievers at home! I used to practice Pantene commercials in front of the mirror as a kid- but I was torn because I didn't know if I wanted to be the girl swaying my hair on camera or if I wanted to do the voice over. Ha! I love lying under Christmas trees and looking up; particularly South American ones because they are wispier and way bigger.
What's the best piece of advice you've ever been given?
Do what you do because it makes you happy, not because of what people are going to think of you. It relates to our career wonderfully.
As promised, the link to a very adorable bilingual site: http://www.minimities.com/  (A cartoon that teaches kids about nutrition in English and Spanish. )
Carolina studied Theatre Arts in Boston College and film at a conservatory in NYC, and also trained in the creation of socio-political movements at Theatre of the Oppressed with Augusto Boal in Rio de Janeiro. She has acted in Showtime pilot The Affair opposite Dominic West, Disney's Step Up 3D and Grand Theft Auto V as Taliana Martinez. She's also been in indie productions Maybe Tomorrow, I am Julia and Nueva York among others. She's been in several theatre productions in Manhattan and you can currently see her on a National TV spot for Crest.  Carolina is always available for voice over work and will audition for any script that is good. You can contact me here: Ravassa@gmail.com