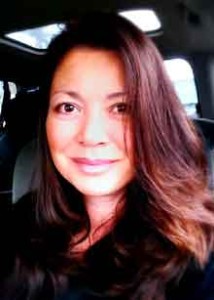 How did it feel to win a spot on The Gittle List Top 10?
I was absolutely thrilled, as this is only my second children's book.   I was especially honored after seeing the quality of the other books included on the list—very impressive.  Creating the imagery and story-telling  is a synchronized process for me, so to be acknowledged for both is such a wonderful feeling.
What's you earliest memory of writing or drawing?
I loved drawing and painting animals as a child and definitely went through a horse loving phase.  At one point my room was completely covered in horse drawings. I enjoyed writing poetry and short stories as a teenager and in college I had the audacity to submit articles to the local paper with my own political cartoons!  You never forget the thrill of seeing your work published for the first time.
What is your favorite children's book?
Now that I have a toddler, I'm starting to appreciate children's books through his eyes.  I would have to put "The Very Hungry Caterpillar" in my top three because there's something classic and timeless about Eric Carle's imagery.  My son never seems to tire of that book.  I have a tendency to gravitate towards more traditionally created imagery vs. computer-generated art. Growing up I loved reading Walter Farley's Black Stallion series and various horse stories by Marguerite Henry.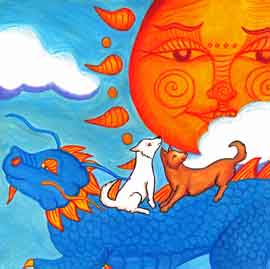 What was the inspiration for your book?
Probably the impact of adopting my first Korean Jindo dog (Gabbey) and again, seeing the world through my son's eyes. In Korea, Jindo dogs  already have an established, well known history. I wanted to create a Western mythology for these special dogs, but one that could be enjoyed and perpetuated by children.  I wanted to somehow pay tribute to how special Toby and Gabbey were, but I wanted to do it in a fun, colorful manner.   My book is also intended as a prelude to slumber, rhythmic and short, offering tired parents some relief before laying their little ones to sleep.
Tell us about your latest writing project.
I have another Jindotales book in the works, but will probably not release it until late 2014. I'm debating on introducing human characters into the series, but I don't want to diminish the fantasy aspect of the books.  I'm also currently working on my first novel, which is loosely based on my women's softball league, located here in San Diego.
Tell us 3 strange and wonderful things about you.
I'm secretly obsessed with sports and have a mental catalogue of random sports trivia. Growing up in Ohio, I rode my bicycle everywhere and didn't learn how to drive until I was almost 30 years old.  By the time I graduated from college, I was so burned out on art that I taught myself to play guitar and fronted a punk rock band for 4 years.  So my writing became less allegorical and more self expressive, which seemed to be appropriate  for  the occasion!
What is the best piece of advice you've ever been given?
Probably that you really have to dig deep and fight for the things you want in this life.  I think Indie publishing is a perfect
example of authors fighting to get visibility for their work, especially when it comes to marketing.  You have to be enthusiastic, creative and relentless in your efforts.  It's not enough to say "my book is published, so now let's sit back and reap the rewards."  You have to find innovative ways to get your book into the hands of new readers.  It's a passion project and labor of love.
Helen. T. Kim is an author and illustrator who adopted her first Korean Jindo dog in the late 90's. Her love of this very special breed has inspired her to share and contribute to the mythology of Jindo dogs. She attended The Ohio State University majoring in Journalism.  She eventually transferred to The Columbus College of Art and Design, graduating with a B.F.A. in Illustration with an emphasis in Fine Art.  Having worked as a freelance illustrator and muralist, she now enjoys volunteering on various public art projects.  She resides in California and enjoys several activities, including:  Music, hiking, sports and spending time with her family.
Buy Toby and Gabbey's Fun in the Sun on Amazon*
Contact Helen:
Website
*If you like a book or product on GoToGittle.com, please click on the link or picture to buy it on Amazon. This way, my little business gets a small commission. I and my accountant thank you. 🙂