Lucy Elliott won the #1 slot on The Gittle List 2013 for Frank the Gentle Viking.
How did it feel to win a spot on The Gittle List Top 10? Had you ever gotten an award before?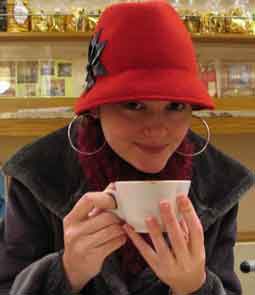 It was very validating! I've never gotten an award for my work before and it was so encouraging to have hard work recognized. It makes me want to keep pushing, and hopefully it will lend me credibility when I start searching for an agent later this year.
What's you earliest memory of writing or drawing?
I don't really remember a time when I wasn't drawing. It was always my favorite thing to do in school. I have this memory of taking my favorite movies and cartoons and reverse engineering them into books that I summarized and illustrated myself.
What is your favorite children's book?
I don't think I could possibly choose. The work of Dr. Seuss has had a huge influence on me. So has the work of Maurice Sendak. I think I'd like my style to be a unique blend of the two: The elegant, intimate simplicity of Sendak with the wry, satirical, imaginative whimsy of Seuss.
What was the inspiration for your book?
I was in the children's section of the John Rylands library in Manchester, UK (which is the most transcendentally beautiful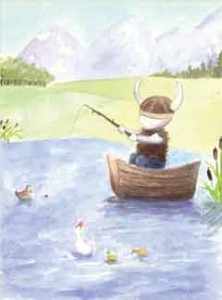 library I've ever been in my life and I recommend it to book nerds everywhere!) And I came around the corner of the stacks to see a toddler in a stroller, wearing a surgical helmet. His head was tipped down, hiding his eyes, but he had the most resigned look on his face, as if to say "Yeah…this is my life now." And I thought to myself that if he were my child, I would have glued some horns to his helmet so he would feel more awesome about his situation. And suddenly the idea for the character of Frank was there in my head, and I think so much of the story stemmed from the idea of a hat and how it says so much about your lot, or your role, or situation in life, and
how this character will grow to make it his own.
Tell us about your latest writing project.
I think getting this award has gone to my head and made me way too ambitious now! I'm attempting to bring two manuscripts I've been work shopping to the dummy stage, as I participate in two separate dummy challenges. I'm thinking I've bitten off more than I can chew, so I might slow down and go back to the design phase. It's so easy when you've done one good thing to just churn stuff out without holding it to quite the same standard you did the last project, so I need to stop myself before I get sloppy.
Tell us 3 strange and wonderful things about you.
1) I'm currently pregnant with our first child, which probably accounts for the combined feeling of wanting to conquer the world and having zero energy to do it. 2) I like to make art dolls in my spare time. (Pfft. Spare time? Is that a thing?) 3) I'd like to tour the Mediterranean one day.
What is the best piece of advice you've ever been given?
"Make Good Art." – Neil Gaiman, ties with "This is Supposed to be Stupid." – Howard Ashman
Once upon a time, a Tuesday, to be precise, a little girl named Lucy was born. Her parents tried to call her Lucille, but that didn't really stick. Lucy loved the beach. She loved playing pretend, and imagining all sorts of dragon and fairy filled adventures in the backyard. She also loved to draw. On everything. After being grounded for drawing on her bedroom walls, she learned about creative censorship. But it didn't matter, because she just decided to experiment with new media. She learned to sculpt and sew and paint. Then she went to college and learned how to See. Looking and seeing, she discovered, were the best skills an artist could have. And so she set out into the world, to look and see all she could and somehow get it all down on paper.
Click here to buy Frank the Gentle Viking*
*If you like a book or product on GoToGittle.com, please click on the link or picture to buy it on Amazon. This way, my little business gets a small commission. I and my accountant thank you. 🙂