The Gittle List 2013: Top 10 Self-published Children's Picture Books
 #1 – Frank the Gentle Viking
Written and illustrated by Lucy Elliott
Frank the Gentle Viking is the story of a small boy who feels overwhelmed by the size and bravery of his older viking brothers. This type of story is typically harsh — the "weaker" sibling is disrespected by others and, usually, trying to win the love of his father. Here, small and quiet Frank must come to accept himself. Ms. Elliott's illustrations are both funny and touching. The page layout is very polished; what you would see from a traditional publishing house. The ending is pitch perfect. Frank doesn't change in the end, he finds the strength in the traits that define him. That's a wonderful message to send to any child.
#2 – Tristan Wolf
Written by Mariana Llanos, illustrated by Rocio Perez de Solar
Tristan Wolf is the second book that inspired The Gittle List. Like any good children's book, each additional read reveals more layers of the story. It is a unique angle on a classic tale of a boy raised by wolves. But, as your child will inevitably ask you to read it again and again, you will find many teachable moments in the story. Rocio Perez de Solar's illustrations have a primitive feel washed in beautiful colors. Createspace's layout team added design elements to each page that enhance the print version. Ms. Llanos is Peruvian and recently released the eBook in Spanish. It's a great story in any language.
Learn more about Mariana Llanos and Rocio Perez de Solar in their Gittle inteviews.
#3 – The Most Important Critter in the Whole Wide World
Written by Gusty McCabe, illustrated by Brandee Snyder
The Most Important Critter is one of the two books that inspired The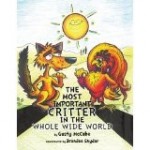 Gittle List 2013. Last year, Gusty McCabe (a.k.a. Paul Larson) asked me to review this story of how the rooster came to raise the sun and the coyote the moon. Straight up: I'm not a fan of cowboy literature. However, I found the story completely engaging and have read it many times. Although stories told in verse can seem forced, Gusty McCabe knows how to weave a tale; I felt that every word counted. Read this story to your child and you'll both be begging Paul to hurry up and finish his next coyote tale.
Learn more about Paul Larson and Brandee Snyder in their Gittle inteviews.
#4 – Bear With Me
Written and illustrated by Dan Stern
How many of you shared your deepest secrets with your favorite inanimate object growing up? (I still have my bear somewhere…)  These "toys" can provide an emotional safety net to a child. Bear With Me is the story of a little boy's closest friend–his stuffed bear. Dan Stern conveys the emotion of growing up in simple language and illustrations. It warms my heart every time I read it.  Bear With Me is the perfect bedtime story for the little ones and their special fiber-filled friends.  In trying to mimic a printed book, Mr. Stern is not taking full advantage of the eBook format. A small complaint in the face of a wonderful story.
#5 – Sasquatch for Dinner
Written by Ronald J. Robledo, illustrated by Ryan Magno
Sasquatch for Dinner, written by Ronald J. Robledo, is about a child who misunderstands what his mom says they're having for dinner. The resulting craziness engulfs half the town in this laugh-out-loud tale. There is a minor disconnect in the story, but the book is so hilarious, you will likely miss it. It's actually a great jump-off point to an imaginative conversation with your child. Ryan Magno captures the off-beat humor of the story perfectly in his Pixar-like illustrations. You can find humorous details in several of his drawings (like in the coffee shop scene). I'm an eBook fan, but you'll want this one in print.
#6 – Guess What is at the Zoo?
Written by Nancy O'Neill, illustrated by kids around the world
Guess What is at the Zoo? is a perfect blend of fun and learning. Over a dozen animals are physically described in simple rhyming verse. But, Ms. O'Neill manages to include facts about each, like what happens to a zebra's stripes and how long a baby kangaroo gets to stay in its mama's pouch. The book is illustrated, literally, by kids around the world. A contest was held and the best drawings were included. (Learn more about the artists here). Guess What is at the Zoo? is part of a series of Guess What? books (learn more here).
#7 – Don't Be Like That Ornery Ostrich
Written and illustrated by Cheri Turk
Don't Be Like That Ornery Ostrich is perfect for the little ones. Okay, I'm an adult and I laughed my butt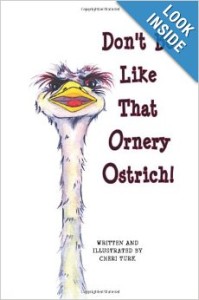 off every time I read it. In imploring the reader to not be like that ornery ostrich, Ms. Turk has written a book that is a simple road map on how to deal with difficult people. The kids will love the repetition and the bright, "Big Bird" like illustrations. Fear not: the repetitive main verse is made hilarious by the clever layout of the book. A great read-aloud story.
#8 – Polarity Bear Tours the Zoo
Written by Sue de Cuevas, Illustrated by Wendy Rasmussen
Sue de Cuevas (a.k.a. Sue Lonoff) is a retired Harvard University teacher and administrator. Her ambitious rhyming story,  Polarity Bear Tours the Zoo, is about a bored bear who takes you on an adventure through Central Park Zoo in New York. Wendy Rasmussen's illustrations capture Polarity Bear's sheer joy of riding on the carousel and dancing at the Delacorte Clock. Of course, a dancing bear is always a joy to watch! This is a story that is meant to be read aloud. As Polarity Bear would say, "Hot icicles!" If you love reading stories to children (as I do), buy it and go down to your local library for story time.
#9 – Amazing Matilda: A Monarch's Tale
Written and illustrated by Bette A. Stevens
Ms. Stevens is a retired school teacher with a B.S. in Elementary Education. (Learn more about that here.) Her understanding of what entertains and educates children shines in Amazing Matilda: A Monarch's Tale. Ms. Stevens' illustrations have a child-like quality and are washed in soothing colors. On the surface, the story is about the birth and transformation of a Monarch butterfly. The underlying story is about the challenges children experience as they grow and learn. It can foster a discussion with your child about the power of perseverance. Heck, it's also just fun to read!
#10 – Toby and Gabbey's Fun in the Sun.
Written and illustrated by Helen T. Kim.
Ms. Kim wrote Toby and Gabbey's Fun in the Sun to celebrate her love of Jindo dogs. (Learn more about that here.) It is a rhyming story of two canine friends who go on an adventure to meet the sun. I love stories that mimic the imagination of a child. Remember when anything was possible? When the characters in your on-the-fly stories could go anywhere and do anything? Fun in the Sun captures that magic. Kim's illustrations are bright and beautiful and are sure to captivate the little ones.
See The Gittle List 2014 Winners
See The Gittle List 2015 Winners
*Please support my indie book business by clicking on the book covers or using the links posted in my blog to buy books and other products. This way, Amazon gives me a little commission that helps me continue the website for you and other readers. Thank you!
Aviva Gittle writes and publishes children's stories in English and Spanish. Her books are filled with beautiful illustrations from artists around the world. You can now order prints and mugs from all of the Kitten and Friends books, Nana books, and more! Each year, Aviva runs The Gittle List contest to support her fellow indie authors. Oh, she also loves children's picture books and is always on the lookout for great ones. The 2016 Gittle List Contest is in full swing: submission guidelines. Follow @AvivaGittle and signup for Gittle News (look right) to be the first to know when they are posted! 😺