Lu Ann and I met on LinkedIn. After reading so many "interesting" book reviews on Amazon, I wanted to know how an experienced reviewer evaluates a book. In this Gittle interview, Lu Ann shares some of her favorite books and the criteria she uses to judge a book. The book's cover is one consideration. 🙂
Why did you start reviewing books?
I have always loved reading and learning. I am an opinionated person. I love to support authors I feel are deserving and whose writings are of a conservative nature.  I also feel, although some writers are very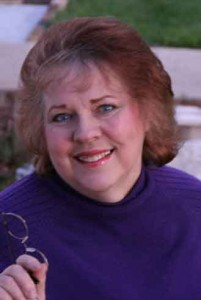 talented, that books with material in them which may be offensive to some, they should be aware of it before purchasing the book. By reviewing books and offering one's insight and opinion also can assist the author in creating literature that will better sell.
 What is your favorite children's book?
WOW!  That is a tough question. It is like asking what is your favorite star in the sky.  There are so many talented writers and stories of which they have created.   I do like the  classics like Mother Goose and Grimm's or Andersen's Fairy Tales.  This way it keeps me off the hot seat. LOL!
What books did you read to your children?  Which books were their favorites?
I read most books children's books I got my hands on.  I wasn't a big fan of Dr. Seuss. That was a very popular book with parents as I raised my children.  I read them a lot of the above mentioned books.
Their very favorite – even into their teen years- were the Brite Music books.  This was a set of twelve books – with an accompanying CD – on different behaviors. (Example: Honesty, Gratitude, Safety kids 1 & 2, Work, Happiness, etc.) Ones half of the CD had the whole story with dialogue and the other half left of the dialogue of the main character and the children would read the main part during the pause on the CD.  My children memorized most of the books.  There was accompanying songs to go along with the story. They memorized most of the songs as well. They still sometimes sing some of the songs, recite some of the dialogue, and laugh when they get together.  Some of them have used it some with their children.  These are hard to find now. I don't know if this company is still in business or not.
How many books can you review each week?  What is your favorite genre?
I average 4 + books a week – depending on the length and if there are children's books to read.  I have read up to 14. (8 adult/YA and 6 childrens.) As far as genres go…. Again, it would be easier to answer which are not my favorite. At the risk of offending many, I feel Erotica is something any teenager with overactive hormones could write.  I feel there is not much literary value to them. I dislike books with a lot of profanity – especially the Lord's name in vain and the big "F" word.  I have read/reviewed many books I discover contain these. I strive not to let this affect  the ratings but I do mention it in my reviews and warn others of it.
Do you prefer digital or print books and why?
I prefer print books.  Digital are nice to have traveling at night or when one is awake at night when others are sleeping. However, I like the print book in my hand. I do not have to worry bout it being charged or losing it when my reader crashes.  I also prefer it because I allow others to check books out of my personal library with the agreement they will also review them when they are though reading them. I pass books, I no longer want to keep, to the local libraries, with a label I made up and place inside the book or book on CD, which states the book is a generous donation provided by the author who simply requests a review in exchange.  The library also has signs I made up stating the importance of reviewing those books with the label inside of them.  One cannot do this with Digital Books.
What are your criteria for 5 Star books?
I find a limited amount of books worthy of a 5 star rating.  The criteria I look for:
Does the book "flow" smoothly from one scene or chapter to the next?
Are the characters strongly defined and consistent in nature?
Does the book keep the reader's interest throughout the whole story?
Are there grammatical and typo errors? (However, I do not let this affect ARC 's unless they are extensive.)
Does the Cover page accurately reflect the story content?
Does it emotionally involve the reader?
Is there a lot of repetition?
In Children's books, I look at illustrations – color, reflective of sentences, rhyming (if rhyming is used, teaching point, does pictures and story match with age group targeted, etc.
 These are the main points. I feel a historical novel has to be somewhat accurate and believable.  If an author uses a non-fictional place in their writings, it needs to fit in with the location's landmarks and surroundings. These are other types of things I look for.
Have you ever given a negative review?  Without revealing the book or the author, what were your reasons for giving a negative review?
Yes I have given a few negative reviews but not many.  One was not listed as an Erotica but, basically, it was. It was a complete book with very little plot or storyline other than repeated orgies. Another was very statistical and attempted to make things in our modern society extremely dysfunctional, and presented it as a "norm".  I have lived in Mesa/Phoenix area and in Las Vegas but even in those cities it was not as severe as the author portrayed it. It was very difficult to keep my attention on the story and was quite repetitive. The last I will mention was so full of profanity I could not "pull" a solid plot out of it. – I had to skip over too many paragraphs. I know my views were not shared by all but it was way too much for me to accept.
Tell us 3 strange and wonderful things about you.
I feel I am somewhat ordinary.  Strange? When I was a very young pre-teen, I never played with dolls, toys, etc.  I studied and listened to people. At age 11 – 13, I spent hours on the phone with older teenage boys listening to their family and girl problems and offering advice.  Nobody ever believed I was as young as I was. Because of circumstances, I had to grow up at a very young age. I never really had a childhood.  I was determined when I grew up, my children would never be lonely. I had a large family and partially lived my missing youth through hanging with them.
My parents were very accepting and caring about people of all races and religions.  I never realized there was prejudice in the world until I moved to Las Vegas at age 16 when they were having racial riots. I never understood the prejudice that existed on both sides.  I still have a great love of people.  I feel each individual needs to be distinguished by their attitudes and qualities, not by their race, social status, education, religion, etc.
Have you written or do you plan to write a children's book?  If so, tell us about it.
No. If I get ambitious enough to write, it will be about my father's life. He led a very interesting and amazing life.  He had many miracles and unusual experiences happen to him.
 What is the best piece of advice you've been given?
There are two equally important pieces if advice I have been given.
People will think of you as you think of yourself. If you do not insist on respect you will not get it. If you are confidant others will feel more confident in you.
Nobody or nothing can make you happy. Happiness is a choice. Like in the story/movie 'Pollyanna', you can choose to be happy or not to be.   Life may "stink" but you always have a much longer eternity.
 What is your process for deciding which books to review?
I review all I read.  If an author takes the time and goes to the expense of sending me review copies, I certainly need to be appreciative enough to read/review it for them.
In the past I have accepted all author's books who have asked for a review as long as they were not erotica, have many sex scenes or a lot of profanity. (I ask this of them before I accept their books.)
After January of 2014, I will require more of the author's wanting reviews and will be more particular in questionable content.  Some great writers feel the need to "muddy" their books with filthy language and sexual explicitness.  I will let other authors read/review those. I am getting weary of finding these things in the books I read.  I feel I am in a position, I can do that now.
 What does an author need to do to submit their book for your consideration?
Until January 2014, simply contact me through luann@rockinbookreviews.com or Contact me on my site or connect with LAWonder10 through Linkedin.
 Lu Ann's recommended children's books: Donalisa Helsley's  stories are about character traits like wearing glasses, ADHD kids, etc.  Things other kids often get teased about.  They are very picturesque and well written. Sherrill Cannon's books are equally picturesque and well written, but center on manners and different types of behaviors.  Many of her stories are in rhyme.  She also had a great Christmas book, Santa's Birthday Gift.