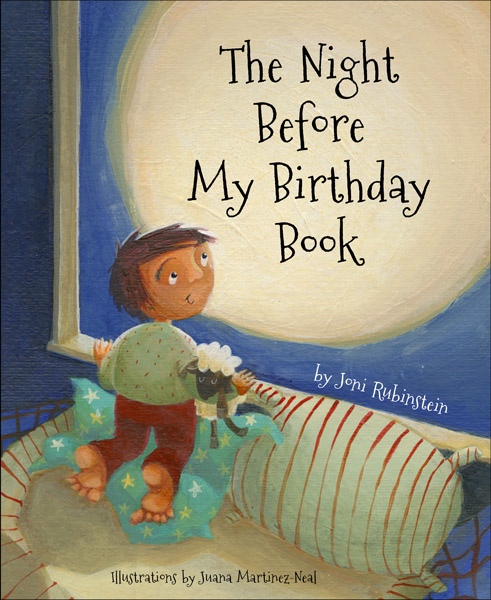 Artist Juana Martinez-Neal won the #4 spot on The Gittle List Top 10 2014 for her book, The Night Before My Birthday Book. Written by Joni Rubinstein. Juana, who has won multiple awards for her work, created gorgeous illustrations for Joni's book.  (See Aviva's review and the other winners here.)
How did it feel to win a spot on The Gittle List Top 10? Had you ever gotten an award for any of your other work?  I'm grateful and thankful. Yes, I've received a few awards. I was awarded SCBWI 2012 Portfolio Grand Prize Winner, and SCBWI Mentorship Award the previous year. The Night Before My Birthday Book was a 2013 Best Books by Atlanta Parent. Rihlat Dana (Dana's Trip) (Kalimat 2012) was made the 2014 IBBY Honour List for Illustration.
What's you earliest memory of drawing?  I can't recall when I started drawing. My father is a fine artist, and so was my grandfather. We drew, painted, did ceramics and everything artistic. My mom has saved some of my sketchbooks from elementary school, and I'm so glad she has.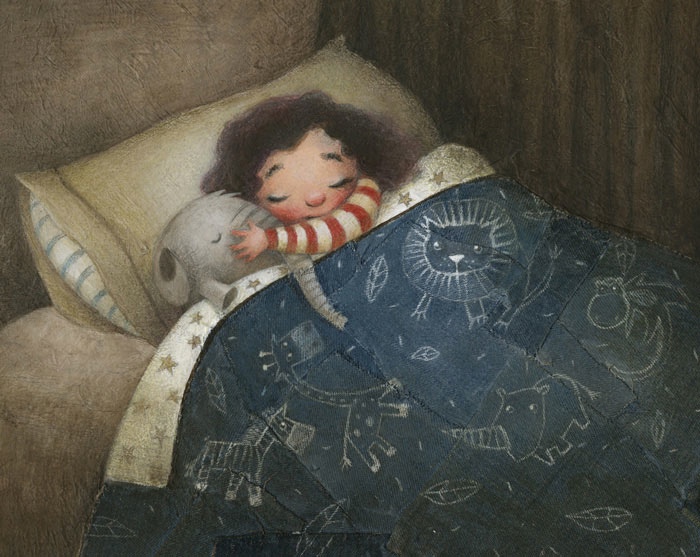 What children's book contains your favorite illustrations?  It's hard to pick one book. Some of my favorite contemporary illustrators and their favorite books of mine are: Isabelle Arsenault (Migrant, Virginia Wolk, Jane, the Fox & Me), Jon Klassen (The Dark, House Held Up by Trees, Extra Yarn), Ana Juan (Frida), Erin Stead (When You See a Whale, Bear Has a Story to Tell), David Roberts (Iggy Peck, Architect, Rosie Revere, Engineer). I also love the work of Constanze Von Kitzing, Rebecca Dautremer, Carson Ellis, Yuyi Morales, and John Parra.
Which artists most influenced or inspired your work? I'd think that the illustrators I listed above have a great influence in my work.
What is your favorite color or color combination? You are asking me to pick one of my 20 children. But if I must, I'd say I love teal, yellow and sepia.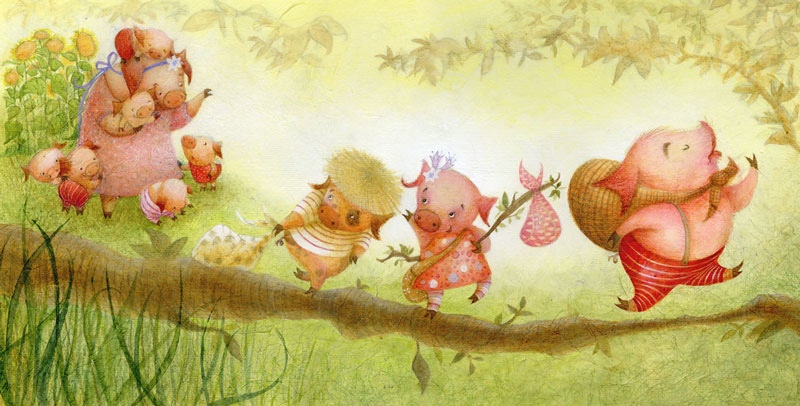 Do you prefer to work digitally, by hand, or both?  I work traditionally, with my hands, preparing my paper, sketching with pencil, splashing everything and everywhere, and I LOVE it! I did digital work while I was doing graphic and web design back in the late 1990s and early 2000s. 10 year of working on the computer was enough for me.
Tell us about your latest project. At the moment, I'm 98% done with the art for LA MADRE GOOSE (Putnam & Sons – Penguin Random House, Winter 2016). I'm also getting started in a couple of new books and I'll be sharing about them soon. In between the books, I'm doing some magazine work.
Tell us 3 strange and wonderful things about you.
I was planning to go to school for Zootechnics: the science concerned with the domestication and breeding of animals (cows, sheep, and goats). Now I paint them.
Back when my husband and I started dating, he considered running out the door as soon as he saw my closet for the first

"Summer Read" by Juana Martinez-Neal

time. I'm very anal on how I sort my clothes.

I never knew I could cook until a few months ago.
What is the best piece of advice you've ever been given? Dig deep.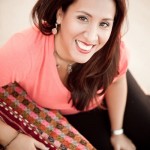 Juana Martinez-Neal was born in Lima, the capital of Peru. She has been illustrating for children since the age of 16. Education is a must so she attended the best art school ever, Pontificia Universidad Catolica del Peru – School of Fine Arts. After 3 years of a crazy 8-to-8 schedule and way too many all-nighters, and in a desperate need of a semester-break, Juana decided to give L.A. a "test drive." She has lived in the US ever since. She is represented by Stefanie Von Borstel of Full Circle Literary.
Buy The Night Before My Birthday Book*
Contact Juana:
Website Facebook Twitter Instagram
*Please support my indie book business by clicking on the book covers or using the links posted in my blog to buy books and other products. This way, Amazon gives me a little commission that helps me continue the website for you and other readers. Thank you!