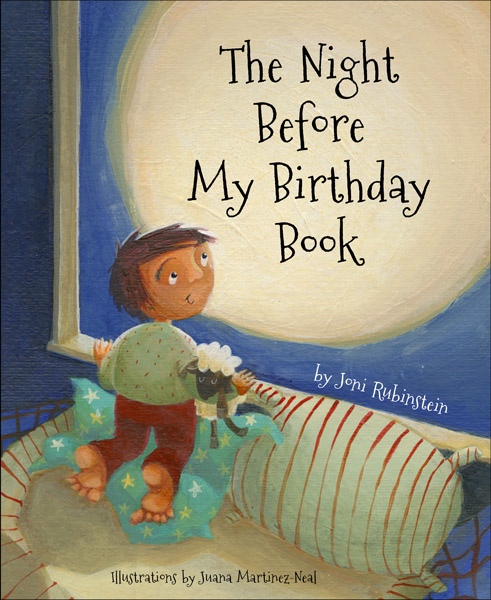 Author Joni Rubinstein won the #4 spot on The Gittle List Top 10 2014 for her book, The Night Before My Birthday Book. It is beautifully illustrated by Juana Martinez-Neal.  (See Aviva's review and the other winners here.)
How did it feel to win a spot on The Gittle List Top 10? Had you ever won an award before?  I was very happy to read that I was on the Top Ten list. Especially after hearing that 95 great books were submitted! The Night Before My Birthday Book was a winner of Best of Children's Books in 2013 by Atlanta parent magazine.
How did you hear about The Gittle List and why did you decide to enter your book?
I heard about it on a Children's Book Authors and Illustrators group on Linkedin. When I entered, I remembered that you wanted books that you could read to your grandchild so I thought I had a good chance. Grandmothers love this book because they value traditions, keepsakes and real books you can hold in your hand. New moms love the book because they value bonding activities and creating their new traditions.
What's you earliest memory of writing?  If you also illustrated your book, please share your earliest memory of drawing, too. As a young person, I liked to make books and illustrate projects. I wrote poems and came from a family that was great at rhyming. I always drew, loved art and am a visual person. I had ideas on how I want the book to look but lacked the skill to make it happen. Luckily, I found Juana on the Arizona SCBWI web site and she could take my ideas and make the pictures in my head so much more than I could imagine.
What is your favorite children's book?   June 29, 1999  David Wiesner. His books are so gorgeous, intelligent and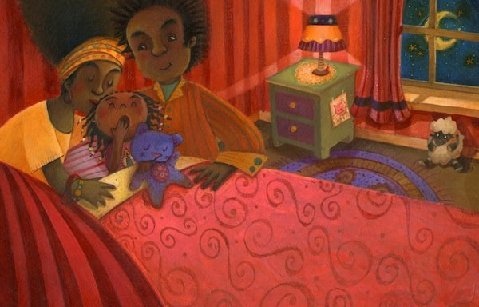 creative. I recommend all of them.
What was the inspiration for your book?  What started out as our family tradition of 33 years has become a book that we read to everyone in our family, age doesn't matter. My three children get the book read to them, my parents who are 88 and 90 get the book read to them, and my husband and I read it to each other. I love that we are now sharing this tradition through the book, to families across the US and in other countries.
Did you have to overcome any obstacles to completing the book and getting it published? Actually, the book was a smooth process with a huge learning curve. Looking back, I am amazed by how the process flowed. I took each step at a time. What made it easier was having such a skilled illustrator and book designer as Juana Martinez-Neal and working with Kings Time Printing Press who made the printing and shipping of the books literally smooth sailing.
Tell us about your latest project. My latest and only book project is The Night Before My Birthday Book. I have no plans for another book because this book is somewhat different from many children's books. It is a tradition book, read once a year, and a keepsake to write about dreams that came true in the past year. It has a timeless feel to it. I hope it will become the Goodnight Moon of Birthday books! This is one career I never want to retire from!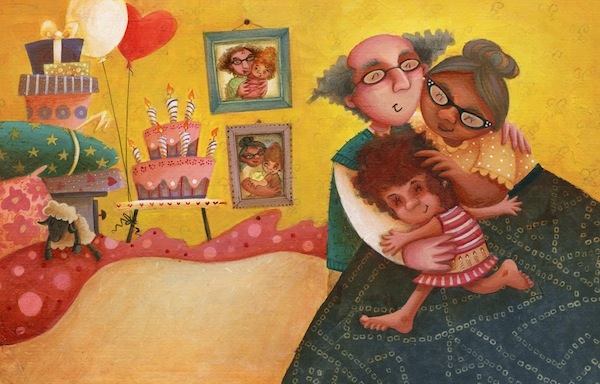 Tell us 3 strange and wonderful things about you. I am a counselor at an elementary school and I use a lot of picture books to reinforce lessons in the classrooms. I donate $1 per book sold on my website to Birthday Wishes, an organization that provides birthday parties and gifts to children living in homeless shelters. I travelled to Vietnam three times with a previous career with TOP (Tours of Peace) Vietnam Veterans, a therapeutic program for vets and their families.
What is the best piece of advice you've ever been given? Don't starve at your own banquet. It was first told to me long ago by a Psychology teacher and occasionally said as a reminder by my husband. It helps me to remember to celebrate all there is around me and to focus on moving forward with gratitude.
Joni Rubinstein, M. Ed., is a wife, mother, and elementary school counselor. Inspired by a tradition of reading a poem to her three children on the eve of their birthdays many years ago, she wrote The Night Before My Birthday Book to share a new birthday eve ritual and create a tradition for other families. Joni has also produced the videos Healthy Touch: Infant Massage for Teenage Parents and Bonding Through Touch: Infant Massage for Adoptive Families. She is committed to supporting families in creating new traditions that celebrate love, respect and attachment.
Buy The Night Before My Birthday Book*
Contact Joni:
*Please support my indie book business by clicking on the book covers or using the links posted in my blog to buy books and other products. This way, Amazon gives me a little commission that helps me continue the website for you and other readers. Thank you!