June received a Gittle List 2013 Honorable Mention for her illustrations in Still a Family (A Young Child's Book About Divorce) by Sandy Lanton. (Read Sandy's interview)
What is your earliest memory of drawing?
As far back as I can remember I drew on just about anything that provided a space to draw; especially books … I would fill in any "open" area and/ or embellish those illustrations already in the book.
What is your favorite children's book?
I remember a particular big book of classics from the 1940's with illustrations by the most famous earliest illustrators. Of course I was compelled to add my illustrations even to THAT book. I also have a particular favorite that I took out of the school library at every opportunity, My Father's Dragon by Ruth Stiles Gannett,  until it "disappeared." [Years later], a children's librarian miraculously produced a copy! It had been out of print. I bought it and rediscovered why I loved it so; how it sparked the imagination with vivid descriptive magical passages.
Do  prefer to  work digitally or by hand?
Hands down it's HAND! I prefer the spontaneity and unpredictable nature where imagination comes to life… where the magic happens … (and sometimes doesn't!) To me, personally, digital work is lifeless – even when it has beauty it seems to have no soul.
What's your next project?
I will return to [completing the] final art for my own book, which I put aside while doing other projects.
Which artists who inspired you?
My absolutely favorite artist is Alphonse Mucha. His Art Nouveau is exquisite perfection! I must also credit Peter Spier for his influence. When I met him he was kind enough to invite me to his home to share his art and reviewed my work, encouraging me to pursue my dream!
Tell us 3 strange and wonderful things about you.
I will get up in the middle of the night to watch meteor showers or any celestial event. I would even wake my children and drag them out to lie on the deck with me watching the sky! My window sills are filled with all manner of cobalt blue glass.
Different times of day create different effects, sometimes eerie, and the glow is strange and wonderful! I am a die-hard holiday freak celebrating any and all holidays, decorating accordingly.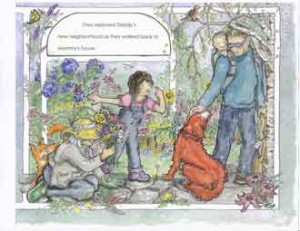 What is the best piece of advice ever given:
Award winning author/ illustrator, Ann Grifalconi, kindly mentored me. She said to always use the best paper you can afford and  to not be afraid to use it!. Good paper is "forgiving" and can be reworked, She also warned while sketching/ drawing to never erase or you will keep drawing the same line again and again; draw over it for the correction. You can always transfer using a lightbox.
June Hajek Blair was born in Manhattan and has always maintained an affinity for NYC.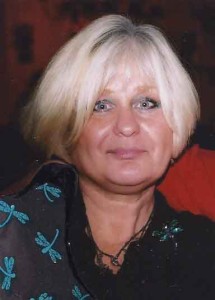 She has lived most of her life in Bay Shore on Long Island with her husband Alfred , where she raised her 4 children. Her background education is in Horticulture as well as Art, along with attending Bank Street Children's Literature Institute. June is a longtime member of Long Island Children's Writers and Illustrators (LICWI) and Society of Children's Book Writers and Illustrators (SCBWI). She is a passionate gardener and often infuses her illustrations with her personal interests. You can see more of June's work in The Barnyard Cat and The Alley Cat, both written by Brian J. Heinz.
*Please support my book business by clicking on the book covers or using the links posted in my blog to buy books and other products. This way, Amazon gives me a little commission that helps me continue the website for you and other readers. Thank you!