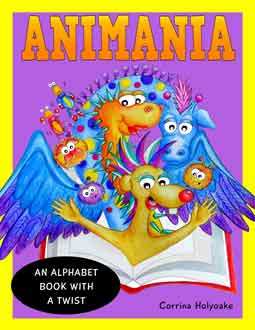 An artist is inspired to paint again after the death of her father
Corrina Holyoake seemed destined to be an artist and a writer. She even wrote and illustrated a couple of stories at the tender age of nine. As children often do, she considered all kinds of things she could be when she grew up. A dancer, a doctor, an architect. She was in her teens when she decided to pursue a career in art.
"Six years passed and I hadn't even picked up a paint brush."
After Corrina completed college, she talked her way into a position with a graphic design company. Unfortunately, five years later there just wasn't enough work to go around. She then took a job working in a medical and scientific publishing house. Now a technical support advisor for the same company, she admits that it is not an environment that inspires creativity. She says, "Before you knew it, six years passed and I hadn't even picked up a paint brush."
Corrina gets her "arty" side from her mother. Her dad, Jack, was the storyteller. She says, "He was in the Navy when he was younger and then moved into rigging." Jack was posted all over the world. "He had such a colourful life and was quite the traveller." A bear of a man with an intimidating demeanor, he was the family's "gentle giant" who wrote poetry for Corrina's mother.
"Then the unthinkable happened."
Then the unthinkable happened. Jack got cancer. In 2009, after a painful six years, Corrina's father passed away. "His passing was very tough going, to watch your big, burly Dad wither away to a husk of a man was heartbreaking to witness."
"It was like a switch had been flicked. I think I picked up the brushes as a form of therapy and then things snowballed," she says. Corrina realized illustration was her calling. Since her epiphany, she has been working non-stop painting illustrations for children's book authors. Then she decided to illustrate her own book. The idea for Animania was inspired by a very silly conversation Corrina had with her 8-year-old son Dylan. "We were discussing how funny it would be to mix animals up. So we came up with creatures such as Antosaurus, Prickly Python and Fluffa Fish."  Another switch went off—her son had created a great idea for a picture book!
Corrina tried very hard to get an agent or traditional publisher to work with her. Finally, she decided to self-publish Animania. "I just wanted to share the book with children and couldn't wait any longer."
"I decided to enter straight away."
As a self-published author, Corrina was now responsible for promoting her own book. She says, "I am still finding my feet with the wonderful world of marketing." She's trying many different avenues, including entering Animania into a book competition. She'd heard about The Gittle List, a contest exclusively for indie authors of children's picture books, on Twitter. "I decided to enter straight away." (Related article: The Book Contest That Keeps on Giving)
Corrina still grieves the loss of her father. "I would give anything to have just one more night of storytelling from him." But his passing opened many new doors to creative endeavors beyond her teen-aged aspirations. Recently, she decided to sponsor the pet therapy organization Critterish Allsorts. She says, "A percentage of all sales go to them. I have always wanted to give something back with my work." Jack would be proud.
Hurry! The Gittle List submission deadline is Midnight (PST) November 15, 2015. Print books and eBooks are accepted. The contest is open to self-published authors around the world. (Submission Guidelines)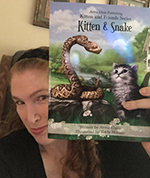 Aviva Gittle Publishing offers great stories for children in English and Spanish, including the Kitten and Friends / Gatito y amigos series. Aviva's website, www.GoToGittle.com shares the stories of authors, illustrators and others who create books and creative media for children.