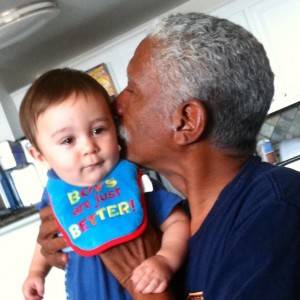 A former software engineer shares his recipe for rice & beans. Your kids will love them and so will you. Cheap, healthy and delicious!
My husband, David, and I have been together for over 17 years. For most of that time, I thought I was the superior cook. Your typical creative, I experiment  with abandon; changing ingredients at will. Sometimes I remember to capture in writing (kinda) what I did. But, I could never tell anyone else exactly how I made that yummy dish they wanted to make for their family.
David is a retired software engineer. To watch him make a sandwich is a testament to patience. Everything must be even. Slices of tomatoes must be the same thickness. Peanut butter must be spread evenly. He figures out the best order of the fillings to ensure a "no-slide" sandwich. (Something to do with avocado…)
A few years ago, he started experimenting with recipes. One recipe at a time. The first time, he would follow the recipe exactly (crazy!) Then, he would note what worked and what didn't. He would change one aspect of the recipe at a time (one needs to control variables). He spent, literally, months learning to make biscuits. The result? Move over Pillsbury Dough Boy.
David recently got on a kick for El Pollo Loco beans and rice. It was getting expensive and he wanted to re-create them at home. Of course, he has created a version that is better (and cheaper)  than the original. He even managed to make them healthier. Here's the result of his careful experimentation. David's (Better-Than) El Pollo Loco Beans & Rice Recipe.