How a Product Rated 5-Stars Might Be Junk
Do you use the 5-star rating system to help you make informed purchase decisions? If you only look at the stars and not the reviews they are based upon, you may be buying a piece of junk (or a lousy book).

Once you choose to give the stars the greatest weight in your evaluation, lower-rated, but potentially better alternatives may not show up in your search results. Worse, inferior products can have deceptively high ratings.
11 Reasons Product Ratings Are Deceptive:
1. The product or service has no ratings yet. In searches with minimum-star criteria, they will not show up in the results. Most return policies are generous and it's low-risk to give a no-star item a chance.
2. Too few ratings skew the overall rating. I see this often with books. There will be two ratings: a one-star and a five-star. Which one is it? You'll never know; your high-star search eliminated it.
You assume most reviewers share your level of intelligence.
3. Poor quality reviews. A low-rated product based on low-quality reviews won't show up in your high-star search. Let's pause on this one.
When stars are given the greatest weight in your evaluation, you are assuming most reviewers share your level of intelligence and values. And, that their requirements are similar to yours. Let's explore why this is often not the case in items four through eleven:
4. The reviewer forgets to click on the stars. This happened to an illustrator I met through LinkedIn. He had a glowing review from a customer, but they left the default of one star. This brought his overall rating from five stars to four stars.
5. The reviewer doesn't have the same requirements as you. This is prevalent in reviews for small appliances. The reviewer puts great weight on a feature that is irrelevant to you. They loved the toaster, but gave it three stars because they think it should have a higher maximum temperature setting. (See #6.)
6. The reviewer did not read the technical specifications before buying. Their rating is influenced by their disappointment that the product does not perform some function. Yet, this function they want so badly is not listed in the specs.
7. The reviewer loved the product, but had a bad shipping or customer service experience. It would be appropriate for the reviewer to consider the bad experience in their rating, if it impacted their use of the product or service. Obviously, bad restaurant service matters. But, their toaster showed up a week late?
Note: Amazon has a separate review system for vendors and shipping.
8. The reviewer did not read the instructions. The product actually will function as advertised, but the reviewer didn't bother to read the instructions to find out how.
9. The reviewer has not tried the product. One reviewer had ordered several books and had not read them yet. So, she posted a three-star review as a placeholder. Another was angry that the product hadn't arrived yet. (See #7.)
10. The overall star rating is inflated or deflated by fake or vindictive reviews. This appears to be prevalent in book and restaurant reviews. Whenever the competition gets fierce, the fierce get desperate.
11. The reviews don't belong to the product. This one I just discovered  through a LinkedIn user, Jennifer Tzivia MacLeod. Amazon associated several poor reviews for a book on the McCarthy era to a children's book. The children's book author is fortunate; it only lowered his book's overall rating to four stars.
There is no scientific formula for evaluating art.
The star rating system particularly limits our artistic choices. Art is subjective. A movie critic can give you a synopsis; tell you what they thought about the acting, the cinematography, etc. But it's their opinion. There is no scientific formula for evaluating art. And heaven help us if there ever is. What a sad and utilitarian world that would be.
I still look to the stars to guide me. Yet, logically, I know they limit my choices because a product may have a deceptively high rating. Or an undeserved low rating. But those stars have a nearly irresistible, emotional power over my purchase decisions. Are you star-struck, too?
If the star system were abolished, you would have to search for products solely on meaningful criteria, such as price and features. You would be forced to read at least some of the evaluations – and evaluate their relevance. Now you would be making informed decisions.
Have you bought something based on a 4- or 5-star review that you regretted? Is your favorite movie or book given a low rating by the experts? Tell me about your experience here!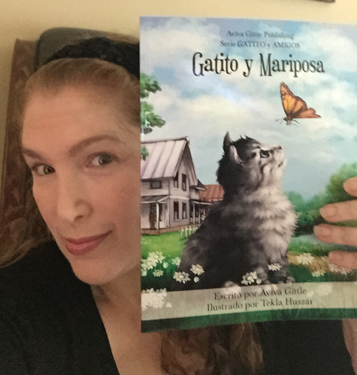 Aviva Gittle is publishing children's books in English and Spanish. Her books, including Kitten & Butterfly, Gatito y Mariposa, Bagel Boy, and Salto lunar, are available on Amazon.