Aviva's Holiday Bread pudding (Adapted from Betty Crocker Recipe)
Preheat oven to 350 degrees.
Spray a round casserole dish or dutch oven with cooking spray.
6 cups cubed stale white or other plain bread (I used my homemade beer bread)
2 cups cubed stale good-quality fruit cake (I used Gran Panettone Madi Cake)
1/2 cup raisins
2 2/3 cups low-fat buttermilk
1/4 pound (1/2 stick) butter
1/4 cup good-quality margarine (like "I Can't
Believe It's Not Butter or Land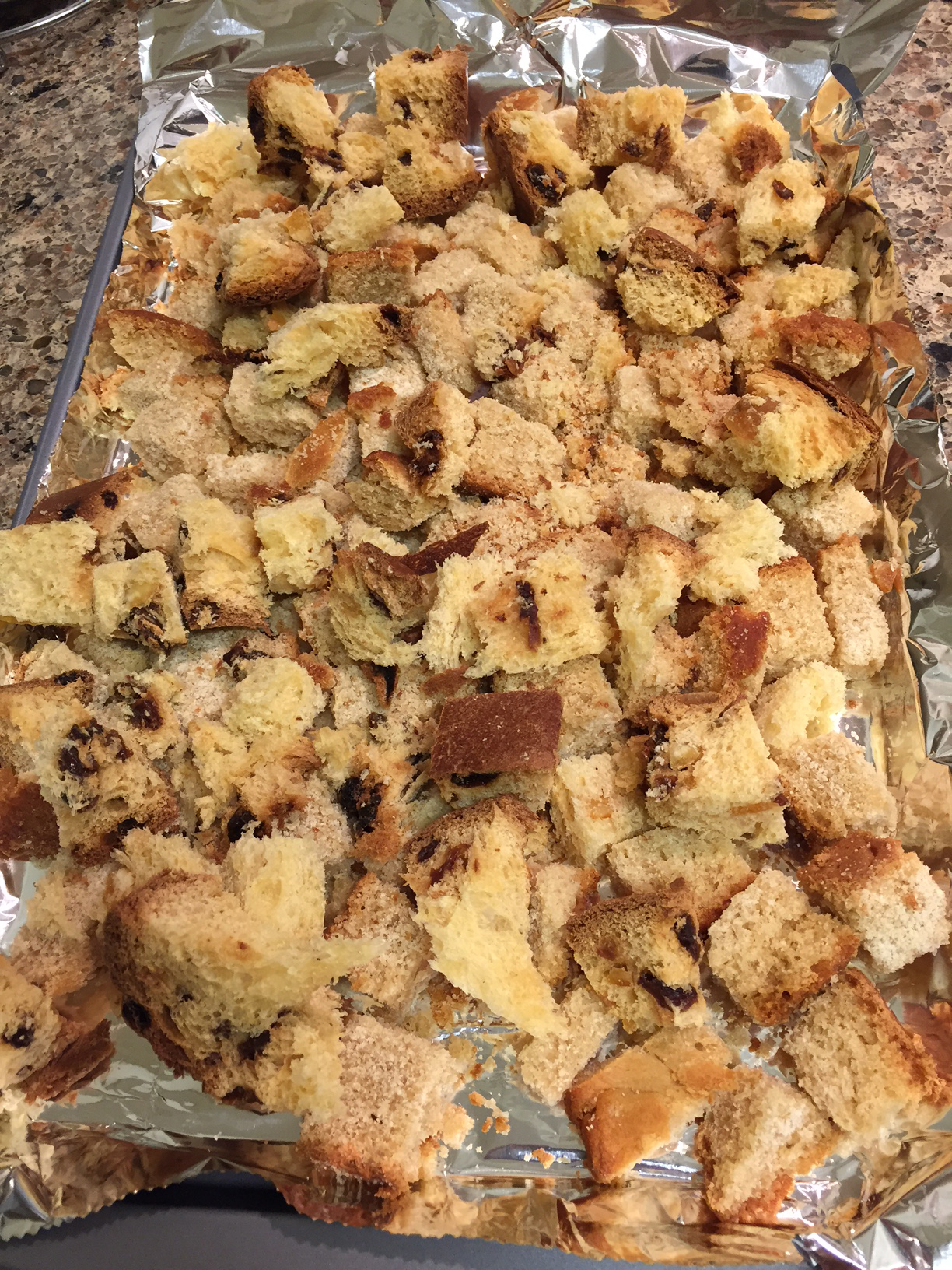 O'Lakes) — Or just use 6 TB butter
3 eggs
2/3 cup sugar
1/4 tsp salt
1 tsp cinnamon
Warm buttermilk and butter together at medium-low heat until butter is melted. Don't let it boil. You just want the butter to gently melt.
Meanwhile, in a large bowl, whisk together eggs, sugar, salt, and cinnamon.
Slowly pour buttermilk / butter mixture into egg mixture whisking as you pour.
Add raisins and whisk.
Add bread cubes and gently mix until fully incorporated. Do all this by hand; don't use a mixer.
Pour mixture into casserole or dutch oven.
Bake 40-45 minutes until pudding is starting to pull away from the sides of the dish and a knife inserted about an inch from the edge comes out clean.
Spoon buttershot sauce (recipe follows) over top while still hot and spread evenly. Let cool.
Buttershots Sauce (My own creation)
1/2 cup brown sugar
1/4 tsp salt
1/4 pound (1/2 stick) butter
2-3 TB Buttershots liqueur
Whisk all together in microwaveable bowl. Cover with plastic. Microwave at 50% power for 4 minutes. Whisk again and microwave at 50% power for another 4 minutes. Set aside.
Hint: If you know you are going to make bread pudding, put the bread and part of the fruit cake in the refrigerator. In a few days the bread and cake should be stale.