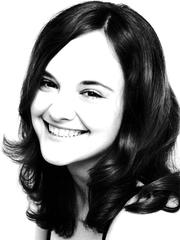 Jennifer Chappell has illustrated two Aviva Gittle eBooks: Bagel Boy and Snack Attack! (now in beta). Today, Jen talks about her art and shares her thoughts on print versus digital books, her favorite children's book and the secret to great mash potatoes. (Seriously.)

What's your earliest memory of drawing something?
My first memory of drawing something was when I was really little and I loved watching Saturday morning cartoons.  I would try to draw the characters from TV and I kept doing it until I invented my own characters to draw.
What is your favorite children's book? Why?
My favorite children's book is The Little Prince by Antoine de Saint-Exupéry.  It's about a little boy who explores nearby planets and meets interesting people.
Are there other artists in your family?
I come from a family of artists, but I'm the only one who draws.  My mother teaches theater, my father is a musician and writer, and all three of my siblings like to sing and/or play instruments.  We all just enjoy being creative.
Who and/or what inspires your art?
Music is my biggest inspiration to draw.  Sometimes, when I hear a really great song, I just have to draw!  My favorite singer is Tom Waits, I do a lot of drawing listening to his music.  Some people think he sounds like Cookie Monster, and I tend to agree!
What are your two favorite colors together?
Black and red.  They always look good next to each other!
How is working digitally different from drawing on a piece of paper or painting on canvas?
It's actually very much the same!  I work with a stylus, which is a pen-shaped tool for a computer.  So when I draw, it feels the same as if I were using paper.  But it's easier to correct mistakes on a computer!
What do you think about illustrations in eBooks? Is it as good as the printed version? Why or why not?
I think they are both good.  It just comes down to preference; I don't believe one is better than the other.  Some people prefer to physically hold a book, some people prefer to have all their books in one place, it just depends on who you are.
Did your parents encourage you to be an artist?
All the time!  Every birthday and Christmas, I'd get something to do with drawing.  Sometimes I got books teaching different techniques, sometimes I got new pencils or fancy pens.  But my favorite gift was always a brand new sketchbook.
 Tell us 3 strange and wonderful things about you.
1) My nickname is Pixie, which I earned by being short and getting a Pixie haircut.  I like it!
2) I love animated movies.  You name any animated movie and I've seen it.
3)  I make the world's tastiest mashed potatoes.  (A secret Jen share's at the end of the article.)
What is your greatest artistic achievement to date?
The fact that I can make a living doing what I love continues to be my great achievement.  🙂
What's the best piece of advice you've ever been given?
"To invent your own life's meaning is not easy, but it's still allowed.  And I think you'll be happier for the trouble." –Bill Watterson, the brilliant mind behind Calvin & Hobbes.
Jen Chappell lives in New York City. She spends most of her time at her desk drawing colorful characters and fantastical new worlds. As a graphic designer, she has created logos, ads, and even a few maps, but she much prefers to draw for children's books. Jen loves to talk to kids about art and drawing and she will always respond to emails. Mention monkeys and become her friend instantly! Send an email to GoToGittle@gmail.com with "Ask Jen" in the Subject line and ask her any question related to art. To buy Bagel Boy, click here.

And the moment you've all been waiting for, the secret to Jen's mashed potatoes:
The secret is letting them boil a little extra until they're soft and mushy, whipping the heck out of them (which will tire you out but it's worth it) and being quite liberal with the milk, garlic powder and butter!  Delish!