Rocio Perez Del Solar illustrated Tristan Wolf by Mariana Llanos (interview here). Her drawings have a beautiful ethereal quality to them. I loved her illustrations for Tristan Wolf so much that I made a deal with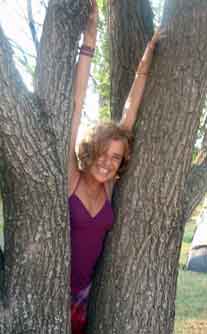 Mariana to get two copies of the book in print. Here I talk to Rocio about Van Gogh, rolling in the mud and Arroz con Pollo…Peruvian style!
Where do you live? Do you like living there?
I live in a trailer with my 13 year old son, in the middle of the country side. I love where I live! I get to have chickens, cows, horses, goats, insects, coyotes and snakes around.
Are there any other artists in your family?
My brothers, children and parents are all artists in different ways: music, cook, art designers.
Who is your favorite artist? Why?
My favorite artist Van Gogh, because I feel I have a lot of him. I like his crazy spirit and his awesome soul.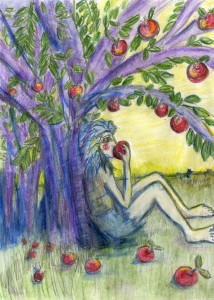 What is your earliest memory of drawing?
I remember drawing a Virgin Mary, when I was probably 11 years old, on the board at school with charcoal colors …I surprised myself with what I did!
What are your two favorite colors together?
I like blue and green, I like orange and hot pink….
Do you prefer to work digitally or by hand? Why?
I only work by hand. I like to feel the pencils or paint in my hands
Do you cook? What is your favorite food?  
I love to cook and I'm pretty good. My favorite I always said is Arroz con Pollo (Chicken with Rice, Peruvian style),  but I really like everything I cook!
Tell us 3 strange and wonderful things about you.
When I was little I used to get naked, jump in the mud and play happy in it.
I go around drawing with my soul everything I have around me.
I love to talk with nature. I feel as if it talks back to me.
What is the most challenging thing about being an artist?  
Get to know me enough to understand I'm different. I have to deal with it and use it to my advantage.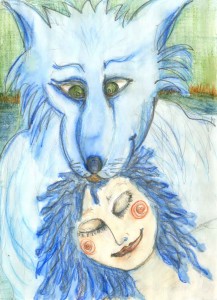 What inspires your art?
My life, what I see, what I have inside.
What's the best piece of advice you've ever been given?
A mistake can be our best piece of Art.
Rocio Perez del Solar was born in Lima, Peru in 1960. She draws since she was very young. She got married at an early age and has five children. She took several art workshops in jewelry, basketry, painting, etc. She combined all of this knowledge to create powerful art that touches the heart with bold colors and playful lines. See Rocio's portfolio here. You can follow her on Facebook.

Rocio moved to Oklahoma in 2002 with her youngest children. In Oklahoma she did several jobs but soon she found herself doing what she loves again: painting and creating. She has had several exhibits around Oklahoma. She also works in Theater Production, painting back drops for plays and musicals, she does face painting, mural painting and now her newest incursion in illustration with Tristan Wolf is gaining her raves and opening new doors around the country.