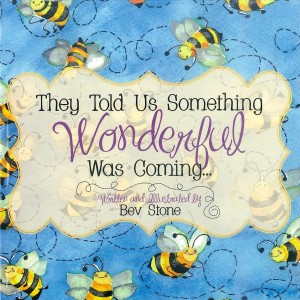 Author/illustrator Bev Stone won the #1 spot on The Gittle List 2014 for her book, They Told Us Something Wonderful Was Coming. (See Aviva's review and the other winners here.)
How did it feel to win a spot on The Gittle List Top 10? Had you ever gotten an award for this or any of your other books before?
They Told Us Something Wonderful Was Coming is the first book I've ever published, so The Gittle List is the first contest I've ever entered. It was amazing to get that email and learn that I had made the top ten list! I can't tell you how many times I opened that email, reread it and checked the list again. :0). The book was written in celebration and appreciation of all the people in our lives who make the world a wonderful place and after reading Aviva Gittle's beautifully written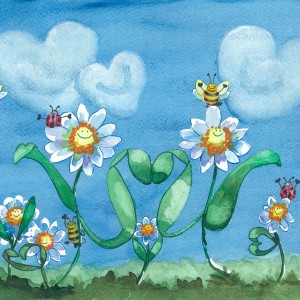 review, it was great to know that its sentiment and illustrations were understood and appreciated.
How did you hear about The Gittle List and why did you decide to enter your book?
I was searching the net looking for advice from other independent publishers when I came upon gotogittle.com and Aviva Gittle Publishing. I was impressed with the site and with the children's books showcased there. I also appreciated the effort Aviva Gittle was making to bring attention to other indie writers and illustrators. I wanted to be a part of that, if I could, so I decided to enter my book.
What's you earliest memory of writing and/or drawing?
I grew up drawing and painting but I didn't start writing children's stories until my children were born. Their bedtime story requests were always stories that I would make up on the spot. In fact I had a hard time remembering my storyline and characters the next night when they'd ask me to finish last night's story. I'd figure out a way to have them fill me in without admitting I had no idea what last night's story was about. They remembered every detail; I started writing them down.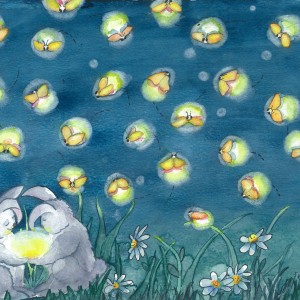 What is your favorite children's book?
I have several favorite children's books. Top on my list are those by Shel Silverstein; Where The Sidewalk Ends, A Light In The Attic, The Giving Tree and The Little Prince by Antoine de Saint-Exupéry. Both authors speak to all ages in a beautiful, fun, and entertaining way.
What was the inspiration for your book? 
The inspiration for They Told Us Something Wonderful Was Coming came from the birth and continuing joy my two children give me and for all the many wonderful people in our lives who should be celebrated. It's amazing how much of the wonder in nature you notice when wonderful people come into your life; flowers wave, bees dance and a dog's bark can actually sound melodious.
Did you have to overcome any obstacles to completing the book and getting it published? 
The only obstacle I had to overcome was myself; would anyone else enjoy what I was writing? And even though I'm an artist, self taught, or more accurately, forever learning, I never tried to illustrate for children – could I do that?
Tell us about your latest project. 
My latest book, Snowpuppies, was published in November, 2014. It's the first book in an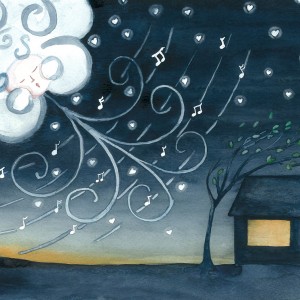 adventure series about ten little puppies made of snow, each named after a snowflake. It was recently featured in a local television holiday special sponsored by fist federal bank.
I have dozens of stories that I've written, and I continue to write, so picking the next one to illustrate and publish is hard; they all want me to choose them next. :0) I guess there's always the dart method. I'm also working on my own new adventure; a Snowpuppy story line that I would love to see as an animated movie.
 Tell us 3 strange and wonderful things about you. 
I rafted down the Colorado river for two weeks in our family's raft but can't swim and am afraid of water; plus, I love to kayak and I live on a river. You'd think I'd learn to swim, right?
I slice garlic on my sandwiches and in my salads and I swear I don't have garlic breath.
I carry jacks in my purse.
What is the best piece of advice you've ever been given?
Do it!
Bev Stone is an artist and author of three children's books: They a Told Us Something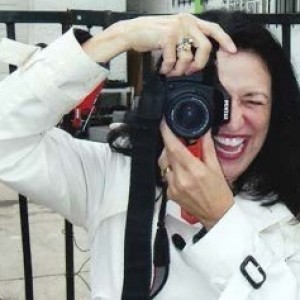 Wonderful Was a Coming, The Best You Can Be and Snowpuppies. Bev started painting and drawing at an early age and was first introduced to watercolor in elementary school. Today Bev paints in both watercolor and oil and continues to write children's books while living in the beautiful state of Idaho, overlooking the Snake River. Many of her paintings and book updates can be found on her website, www.artbybevstone.com.
*Please support my book business by clicking on the book covers or using the links posted in my blog to buy books and other products. This way, Amazon gives me a little commission that helps me continue the website for you and other readers. Thank you!
Credits: All illustrations in this interview post are created and owned by Bev Stone and come from her award-wining children's book They Told Us Something Wonderful Was Coming.