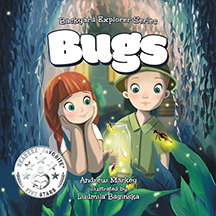 Andrew Markey is the author of Bugs, the first book in the Backyard Explorer Series. Illustrated by Ludmila Baginska. I recently reviewed and recommended the book on Amazon. In his exclusive Gittle interview, Mr. Markey talks Goosebumps, his strange collection, and Sonic the Hedgehog. Oh, and he gives excellent advice about self-publishing. Read and learn.

What's you earliest memory of drawing or writing?  I started off as an avid artist, actually, which is believed I picked up from my dad. I remember him often doodling. I wanted to be a comic book artist or bestselling author. The earliest piece of art I have is of Sonic the Hedgehog, drawn when I was just a child way back in 1998. My local comic book shop owner proudly displayed it on his wall inside the store for a couple of years.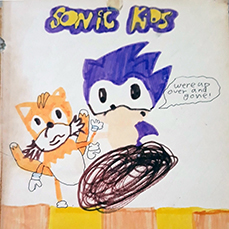 What is your favorite children's book? Although I grew up reading mostly the Goosebumps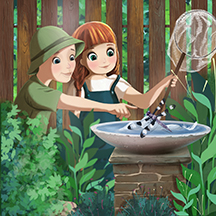 series by R.L. Stine, my favorite children's book is actually The Wonderful Wizard of Oz by L. Frank Baum. I love the story, creativity, and illustrations in this book. The story is truly a masterpiece with a bit of an unexpected dark side.
Why did you decide to self-publish? The competition of traditional publishing is ridiculous and exhausting. It is full of many rejections and disappointment. Self-publishing is easier than I thought but the marketing is very challenging, and without it your book won't make many sales. I am fortunate enough to have a higher advantage as an indie author because I do my own graphic design work (except for illustrations), as well as formatting the entire book.
Tell us about your latest project. I am currently working on Book 2 of the Backyard Explorer Series, entitled Animals. It is nearly finished and I expect it to be available for sale late July of this year. It will have a new illustrator, Fadhilah Putri, but the art is of equivalent quality as before.
Tell us 3 strange and wonderful things about you. I suppose the strangest thing about me is that I collect, mount, and display insect specimens. To some people that is strange but in actuality it is an important and valuable resource for scientific study. Second, I have a bit of stutter, which worsens with anxiety. Third, I am addicted to cola beverages—a guilty pleasure that I must hide from my young audiences!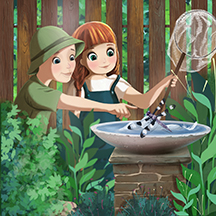 Any advice for writers thinking about self-publishing a children's picture book? Be prepared to spend money if you want a successful children's book. Think about the competition and how your book stands out from others. Hire a talented illustrator that makes your book appealing to both children and adults. And lastly, submit your book to awards, reviewers, and giveaways. It really helps with marketing. Oh, and do your research on the pros and cons of going through a Print-On-Demand (POD) company/distributor or a small independent press. Nonetheless, have fun with it and don't let anything discourage you from creating and publishing your own story!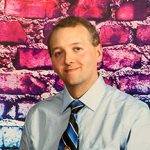 Andrew Markey is a former early childhood educator and zookeeper. He combines this experience by writing children's books that promote outdoor adventure, learning, and empowerment. Andrew enjoys hiking, observing the night sky through his telescope, and the thrilling hobby of beekeeping and insect collecting.
Contact Andrew
Website: Currently under development