Nabila Shishakli is a Syrian artist. We met in a LinkedIn group when she boldly posted a link to her portfolio and asked for feedback on her work.The positive 
response was remarkable. In Part 1 of our interview, Nabila talks about her earliest memory of drawing and her favorite children's book.

Where do you live and who do you live with?
I have been living in Damascus city, the capital of Syria [for a year]. Before that, I lived in the Damascus suburb, Doma, with my mother and my two sisters.
 Did your family encourage you to be an artist?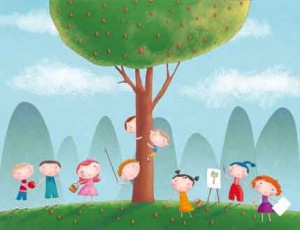 Of course! All my family members love drawing; and they encouraged me… whether directly or indirectly. I remember when my father was making a [painting] of me, my sisters and my brother. [This] prompted me to imitate him. [I received many] birthday gifts… like sketchbooks, water colors, and pencils colors.
 What is your earliest memory of drawing?
[M]aking small paper bags, drawing some simple graphics on them, and then coloring [them]. I remember that the table in my room was full of…colored paper clips. It is still present in my mind, how I was very happy to [color a heart in pink] and [showing] it to mom. I was full of enthusiasm, wanting to see the appreciation on her face.
 Where did you go to school?
I finished my primary, elementary and secondary in a girls' school in my small town, Doma. Then, I studied Fine Arts in Damascus University.
 What artist do you most admire and why?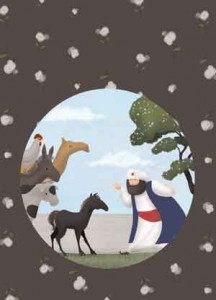 I've always liked Leonardo Da Vinci's realistic style. I admire him [because he] was more than just an artist; he was a philosopher and a genius inventor; I am a big fan of his work.
 What is your favorite children's book? Why?
I've always loved the story of Pinocchio…the version that was drawn by Greg Hildebrandt. What an ingenious and an innovative style he's got; it's really amazing!
 You took a risk and posted a link to your portfolio on LinkedIn and asked for people to critique your children's illustrations. Were you surprised at the response?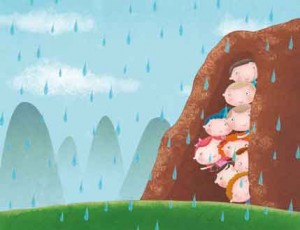 I like very much to know people's opinions about my work [even though] I feel a little bit afraid of criticism. [T]he thing that surprised me…was people's support for me and their encouraging words to continue painting despite…the difficult circumstances in my country. Their tender and gentle words and prayers…touched my heart.
  Have you written or plan to write and illustrate your own children's story?
Read the answer in Part 2 of Nabila's interview with Aviva.