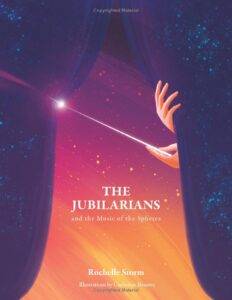 A Fun, Read-A-Loud Story
Reviewed on August 25, 2023
Some stories are just better read out loud. The Jubilarians and the Music of the Spheres is one such story. Rochelle Storm's rhyming verses are unique and filled with joy. Especially when she describes how music feels:
"It's the rhythm of every heart beating at once
It's like having the sky in your head
It's knowing you needn't go slouching along
When you could be dancing instead."
This is a book that you will enjoy reading to the little ones many times over.
Catherine Bassova's illustrations are stunning. The paperback version I purchased is very nice, but I bet the hardcover version really does them justice. I highly recommend this gorgeous picture book for ages 4-8. It would make a great holiday or birthday gift.