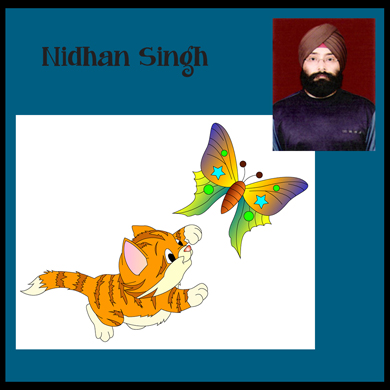 I interviewed Nidhan  about his life and art. You can see more of his work here.
Where do you live?
India  New Delhi.
Are there any other artists in your family?
No.
What is your favorite children's book?
Wonderful Wizard of Oz.
What are your favorite subjects to draw?
Cartoon and fantasy characters or scenes.
What are your two favorite colors together?
Red and white
.Do you prefer to work digitally or by hand? Why?
Both. If you draw by hand then convert it to digital, the character and scene become more realistic.
Who are your favorite artists?
Rembrandt and   Vincent Van Gogh.
Tell us something strange and wonderful things about you.
If I start drawing and illustrating, I can forget everything  near me: atmosphere other people, friends etc. I keep humming a song all the time without worrying about the surroundings.
What advice do you have for aspiring artists?
Follow your dream! Let your talent and passion be expressed through the medium you choose, freely and flawlessly!
What's the best piece of advice you've ever been given?
Be a freelancer artist and look for opportunities online as you'd be able to express. yourself in diverse areas without caring about day to day politics of the workplace.
About Nidhan:
I have professional experience of over 10 years with proven expertise in 3D modelling and animations, along with pamphlet and logo designing for the advertising department of recognised companies. I have a creative mindset that stems from the fact that I've been doing professional paintings for the last 5 years that include the oil on canvas reproduction of European masterpieces as well as abstract expressionist paintings.