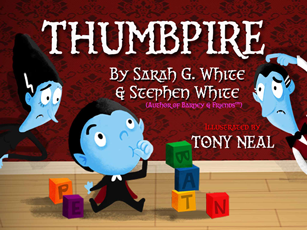 Indie author Stephen White, along with his daughter and co-author Sarah White, won the #6 spot on The Gittle List Top 10 2014 for their book, Thumbpire. It is illustrated by Tony Neal.  (See Aviva's review of the book.)
How did it feel to win a spot on The Gittle List Top 10? I've received a few previous awards, but this was a special thrill because Thumbpire" was my first writing collaboration with my daughter, Sarah. It's a great award to share!
How did you hear about The Gittle List and why did you decide to enter Thumbpire? I follow various blogs and websites for children's writers and read about The Gittle List competition. I entered "Thumbpire" because it's always a challenge for indie authors to find exposure. Plus, I'm proud of the book!
What's you earliest memory of writing? It's hard for me to pull up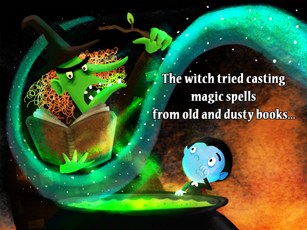 the earliest memory (I've been around a long time) but I've always been a writer and storyteller. Although in college, I got the worst grade in my creative writing class – and then became the only professional writer. Lesson: believe in yourself!
What is your favorite children's book? The adult in me would say Blueberries for Sal by Robert McCloskey because it's beautifully written and illustrated, and I have so many fond memories of reading it (with well-rehearsed comic asides) to my daughter. The child in me would say any book illustrated by the wonderful Gustav Tenggren.
What was the inspiration for your book?  The title Thumbpire struck me out of the blue; I knew it had to be about a thumb-sucking little vampire but couldn't come up with a story. The idea sat in my slush pile until I asked Sarah, my daughter who is a children's speech therapist and very talented writer, what she could come up with. It was entirely her concept to have a little vampire whose fangs couldn't grow in until he stopped sucking his thumb – and the monsters who help him try to break the habit.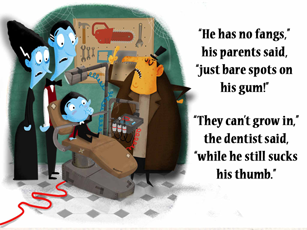 Did you have to overcome any obstacles to completing the book and getting it published? The biggest obstacles were technical. I like releasing my books first in "app" form so that I can include things like narration and sound. Being a "hands on" guy (and cheapskate) I did all the technical work myself – sound recording, editing, and generating files and code for use on iOS and Android tablets. I'm definitely an old dog struggling with new technological tricks!
Tell us about your latest project. Dandy Lion will tell the story of a somewhat foppish lion who is entirely too proud of his luxurious mane and much too quick to criticize the appearance of others. Until the day his mane turns as white as dandelion fluff…and blows away. [Aviva's side comment: "I absolutely cannot wait to read this book!"]
Tell us 3 strange and wonderful things about you. 
For 16 years, I was the primary writer for everything related to Barney the Dinosaur™. TV, books, a movie, live concerts and more. It's very gratifying to have touched so many young lives.

I'm a tremendous introvert who formerly did stand-up comedy. What was I thinking?
I occupy the entire final page of the Ripley's Believe It Or Not Book
of Human Oddities for standing with my feet turned backwards.
What is the best piece of advice you've ever been given? It was a quote from Henri-Frédéric Amiel inside an actual fortune cookie. "Cleverness is serviceable for everything, sufficient for nothing." To me, it says that being glib and entertaining can take you a long way – but your life and works also need depth and meaning.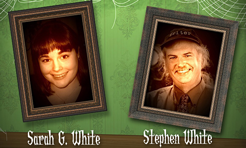 Stephen White is a multimedia writer/creater specializing in humor. He writes for adults and children, and was primary writer for the Barney & Friends™ franchise for 16 years. Born in Indianapolis, Indiana, White now lives in north Texas with his wife, Kathy, daughter (and co-author) Sarah, and wildly energetic dog Penny who believes that barking and desk-chewing are essential to the writing process.
Contact Stephen: Thumbpire Website AlphaBelch Website
Buy Thumbpire* (eBook)    Download Thumbpire Android App
*Please support my indie book business by clicking on the book covers or using the links posted in my blog to buy books and other products. This way, Amazon gives me a little commission that helps me continue the website for you and other readers. Thank you!