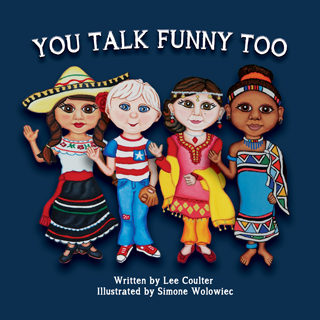 Simone Wolowiec earned the #4 spot on The Gittle List for You Talk Funny Too, a book she illustrated for indie author Lee Coulter. (Read my review.)
How did it feel to win a spot on The Gittle List Top 10?  It's always a positive experience to be given recognition. You Talk Funny Too, was my first children's book collaboration as an illustrator. To be awarded the #4 spot on the Gittle List makes makes me very proud and certainly has encouraged me to illustrate more books! This is my first time I've ever received an award for creative work, and I love that there is a book competition for self publishers such as The Gittle List Contest which is so accessible.
 Which artists most influenced or inspired your work?  There are several artist which have inspired and influenced my work.  San Diego artist Grant Pecoff encouraged me to pursue my passion for art and to simply paint what I love, not what people want!  Grant's ability to capture light and vibrancy in his art makes you feel so alive!  Vladimir Kush (surrealist artist) inspires my surreal mind, to think out of the box and challenge my creativity.  American pop artists Andy Warhol and Roy Lichtenstein inspire an element of simplicity, vibrancy and precision to my work. (Cool Kid's Board Book based on Warhol art.)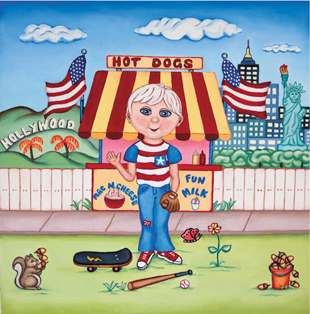 What children's book contains your favorite illustrations? My favorite book of illustrations is Where The Wild Things Are, written and illustrated by Maurice Sendak.  His illustrations are detailed beautiful artworks, so timeless and atmospheric.  His use of line drawings in his art is unique!  He captures so well the transforming power of imagination, the imagination of a little boy Max who transforms his bedroom into another world.
What is your favorite color or color combination? I love red!  It's vibrant and for me it really represents adventure, and passion. It always makes me feel good. Color combinations are fascinating to me. I really go by the visual feelings the colors give me.  I like to find a balance between the use of warm and cool colors.  I love using red/pink and blue together.
Do you prefer to work digitally, by hand, or both? I prefer working with my hands.  At this point in my career I'm definitely embracing the love for painting and drawing with my hands, constantly learning and pushing my techniques as an artist.  However I am impressed by the artistic effects digital work can add to a piece and would like to combine both hand and digital art in the near future.
Tell us about your latest project. I am currently in collaboration again and sketching characters and illustrations for a new children's book to be self published later this year.  I am also working on my painting collection (oil on canvas) for my 2016 art show.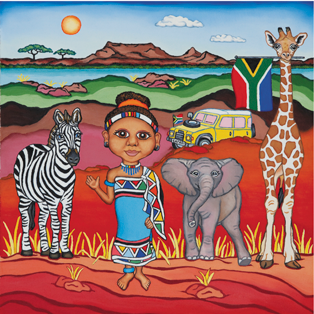 What is the best piece of advice you've ever been given? The best advice I've been given is quite simple, but very powerful. "If you don't believe in what you are doing, why would anyone else."
What do you do to market your books? We've marketed extensively to social media sites such as Facebook, Instagram, Twitter and LinkedIn with enormous support.  Local community marketing has, however, been a key to our success.  This has included book launch celebrations, art show events, music events and the support of local art/gift shops who stock our book.  Marketing to teachers and schools by offering class book reading days have also been a great way to share our book, and fun too!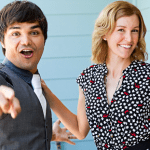 Simone is an artist and illustrator who currently lives in Cardiff, CA.  She has been working in this field for several years part time and has recently made art her full time occupation.  She has completed a number of original paintings in her preferred medium, oil on canvas, including several commissions for local art-lovers in Southern California.  Her works hang in Encinitas, California and Melbourne, Australia where Simone was born and lived until 2008. Simone's artistic philosophy is that her art should "simply make you smile".  Her inspiration is drawn from creativity all around her including art, design and the beauty of nature. (In photo on right clockwise- Indie author Lee Coulter, Artist Simone Wolowiec.)

Buy You Talk Funny Too on Amazon*
*Please support my indie book business by clicking on the book covers or using the links posted in my blog to buy books and other products. This way, Amazon gives me a little commission that helps me continue the website for you and other readers. Thank you!
Contact Simone