Bette A. Stevens won the #9 spot on The Gittle List for Amazing Matilda.
How did it feel to win a spot on The Gittle List Top 10?
Like opening a special gift on Christmas morning… AMAZING! Being on The Gittle List Top 10 is the second award for AMAZING MATILDA. She won a 2013 Purple Dragonfly Book Award for Excellence in Children's Literature a few months earlier.
What's you earliest memory of writing or drawing?
I was about seven years old when I grabbed a pad of paper and pencil and took off for the back yard to capture the beauty of a wild rose bush in full bloom. I have enjoyed drawing ever since. As for writing, I started writing poetry and nugget stories for our family scrapbooks when my daughters were young.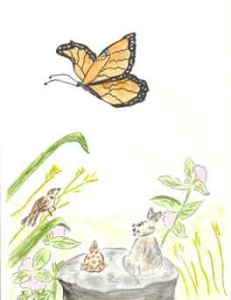 What is your favorite children's book?
There are so many… As a mom and a retired teacher, I would put all of Dr. Seuss's books at the top of my list. My two daughters and I spent many bedtime hours laughing and loving the humor and sound of language in story after story written by The Good Doctor—that's what I've always called him. As Seuss might have said, "Hours well-spent that we'll never forget!"
What was the inspiration for your book?
My love of children and of butterflies. I felt that the monarch butterfly (an indicator of the health of our environment) and its endangered habitat was a perfect model for the growth and development of a child. The monarch life cycle makes a great storyline, too. I want to inspire children to always keep trying—to reach for their dreams.
Tell us about your latest writing project.
I'm writing my first novel scheduled for release Summer 2014. BRIEF SUMMARY: Remember the Good Old Days? This story is about growing up in 1950s and '60s, when America was flying high. The All American Family lived a life filled with hopes and dreams and life's necessities too. The novel's main character Shawn Daniels isn't your typical American Boomer Boy. No,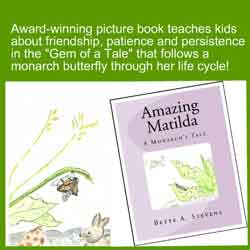 Shawn is a poor boy. Shawn hates school. He's been the butt of the kid's jokes for years, eating his onion sandwiches in the cafeteria while others feast on food that he only dreams of tasting. It's 1964 and Shawn Daniels is ready to leave it all behind. Shawn's on his way to U.S. Army boot camp in North Carolina to soak up some southern sun and begin a new life. But for some reason, he just can't get Mum's scrapbook out of his mind. When a little fellow with blonde hair sits beside him on the plane, the life Shawn is leaving behind comes back in a flash. The plane's getting ready to take off, so fasten your seatbelt (Summer 2014 Debut Novel Release is not far away) and get ready to hop aboard for the ride!
Tell us 3 strange and wonderful things about you.
I'm a nature lover and a collector—everything from seashells to wasps' nests decorates my home. One of my students gave me a humming bird nest in 1998 as a gift at the end of a school year. He'd found it when helping his dad trim hedges and saved it just for me. Imagine that! I love to treasure hunt for artwork at yard sales and second hand shops. My prints and paintings
collection totals over 100. They get to take turns showing off, never knowing precisely where they'll be found, around the house. I have pin-straight hair that I detest. Fortunately, I have it permed so it's no fuss, no muss curls that I love!
What is the best piece of advice you've ever been given?
"Treat others the way you want to be treated."  To me, there's no better advice to be found anywhere on the planet.
Bette A. Stevens is a retired teacher living in Central Maine. Stevens is the author/illustrator of two children's books andhas written articles for ECHOES, The Northern Maine Journal of Rural Culture based in Caribou, Maine. Her latest release entitled PURE TRASH, The Story for the Middle-grade/YA/Adult audience is a prequel to her upcoming debut novel, slated for publication Spring 2014. PURE TRASH, A Boomer's Story (working title may change) will be a coming-of-age story featuring Shawn Daniels, the short story's protagonist.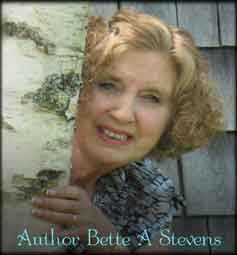 Contact Betty
Website/Blog 
Twitter 
Facebook Fanpage 
*If you like a book or product on GoToGittle.com, please click on the link or picture to buy it on Amazon. This way, my little business gets a small commission. I and my accountant thank you. 🙂