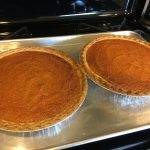 The perfect pie for Thanksgiving.
Adapted from http://allrecipes.com/recipe/12142/sweet–potato-pie-i/
Makes 2 pies.
Preheat oven to 375 degrees.
2 pound

sweet

potatoes, cooked & peeled. Should be very soft. (Here's the easiest way to bake sweet potatoes: https://empoweredsustenance.com/bake-a-sweet-potato/)
1 cup (2 sticks) unsalted, high quality butter (organic is best), room temperature
Let potatoes cool completely. Let butter stand at room temperature until soft. Then place both in large mixing bowl and mix together until creamy. (I don't let the butter melt in the hot potatoes. The tiny clumps of butter remaining in the cold mixture makes the texture better.)
1 cup white sugar
1/2 cup brown sugar
4 large eggs
1 cup cream, half-and-half, or whole milk (or combination)
1/4 tsp ground nutmeg
1 tsp cinnamon
1/2 tsp salt
2 tsp vanilla
1-2 tsp ButterShots (butterscotch liqueur)
2 tsp agave syrup
2 frozen premade pie shells, unbaked
Add remaining ingredients and mix well. Split the mixture between the two pie shells and smooth the top with a spatula. Put foil around crust. 
Bake 60-75 minutes until crust is golden brown and custard is set. (Convection oven takes about 10m less time.) I don't check with a knife or toothpick. It should be puffy, with cracks in it, not jiggly. It will cook more as it cools.
Let cool completely. You can wrap these snugly in plastic wrap and freeze. Take out night before and place in refrigerator to thaw.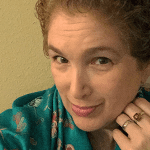 Aviva Gittle Publishing offers great stories for children in English and Spanish, including the Kitten and Friends / Gatito y amigos series. Aviva Gittle lives in Houston, TX near her grandchildren.